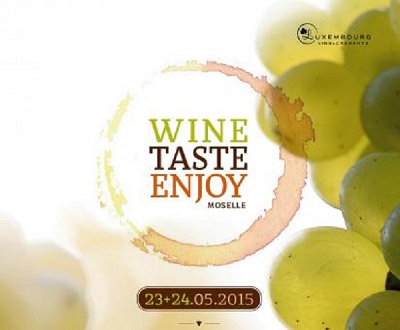 Located just 20km from Luxembourg city, the Luxembourg Moselle is famed for its viticulture; it wines are sought-after by wine-lovers, from sparkling crémants, elegant Reisling, white and red wines from the Pinto family, exotic Gewurztraminer, Rivaner and Auxerrois, as well as ice and straw wine - a unique region without limits.
To help discover the Luxembourg Moselle and its wide range of wines and crémants, a "Wine, Taste, enjoy" open-doors week-end is being organised next Saturday 23 and Sunday 24 May (Whit/Pentecost week-end) to enable the public explore the wine cellars along the Luxembourg Moselle. No less than 20 wine-growers and 2 distilleries will participate in this wine-lovers' celebration.
Various tastings of wines and spirits will be organised along with guided tours of the vineyards suitable for both young and old, as well as various entertainment, including art exhibitions, literary tastings and music concerts.
The wine cellars will be open both days, on Saturday 23 May from 14:00 - 22:00 and on Sunday 24 May from 11:00 - 19:00, offering culinary specialities outside normal tastimg times. The restaurants in the region will all participate by offering typical dishes with wines and crémants from the Luxembourg Moselle.
Access between the wine cellars will be possible by public transport, with free shuttle buses operating both days. The event is being held along the Route du Vin, from Schengen in the south the Mertert in the north.
For full details, see www.visitmoselle.lu.