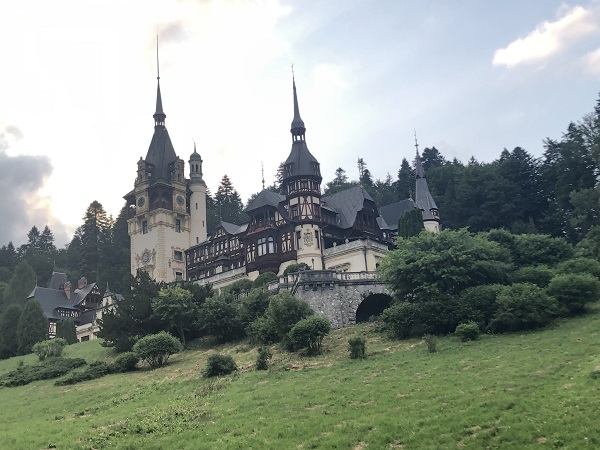 Peleș Castle, Sinaia; Credit: Otilia Dragan/Chronicle.lu
I had just travelled to Bucharest to visit family in December 2022, but as I was invited to a wedding in Sinaia, another visit was due in summer 2023 when I took the opportunity to show a dear Luxembourgish friend around two of my most familiar areas from my childhood in Romania.
We took a direct flight with Luxair from Luxembourg Airport to Bucharest Henri Coanda Airport and back, departing on a Thursday evening and returning on a Monday afternoon. Despite a few travel hiccups on the way back (due to a delayed flight and poorly designated airport changes), we enjoyed a relatively smooth flight of around three hours (with a half-hour delay both ways).
Romania is usually hotter than Luxembourg during summer (and colder in winter), and this year's daytime temperatures during our visit certainly exceeded the average of 30-31℃ with an unusually humid air quality. The temperatures significantly slowed us down, but they did not stop us from visiting some of my all-time favourite museums, parks and shops in Bucharest. As a side note, traffic in Bucharest was very busy; the easiest way to travel fast and efficiently was taking the metro.
Some of my personal Bucharest highlights (apart from the delicious, plentiful food) were:
- A visit to the Grigore Antipa National Museum of Natural History (Muzeul National Grigore Antipa), established in 1834 and named after the first Romanian to reach the North Pole, who also administered the museum for 51 years. The museum boasts the largest collections of mineralogical, zoological and paleontological artifacts and specimens in the country. Delightful for both adults and children, it is one of my almost yearly stops in Bucharest for its outstanding exhibits, extensive and true-to-life, detailed scenes of marine life in the Black Sea, the Arctic Seas, the Atlantic and the Indo-Pacific but also flora and fauna around the world. Sprawling over three floors, with a vast array of different elements to discover, this museum will forever be one of my favourites. A visit takes around three hours (English-language guided tours are available, but the interactive panels provide some information and there are many things to see). There are always temporary exhibitions on display, and this time we visited one with live butterflies.
- Admiring the National Museum of the Romanian Peasant (Muzeul Național al Țăranului Român), part of the European family of Museums of Popular Art and Traditions, which was just nearby. This is a national museum honoured with the EMYA – European Museum of the Year Award in 1996, in possession of a rich collection of traditional objects and art. Right in front of it, another museum tempted us but we ran out of time: the National Museum of Geology, a sizeable museum showcasing a wide range of rock, mineral and gem exhibits as well as dinosaur fossils (and even animatronic dinosaur models!).
- A visit to the "Dimitrie Gusti" National Village Museum (Muzeul Național al Satului "Dimitrie Gusti"), an ethnographic open-air museum in Bucharest showcasing traditional Romanian village life. The museum extends to over 100,000 m2 and is home to around 300 authentic houses, barns, farms, workshops and churches from all over Romania dating from the 17th to the 20th century. The heat truly overwhelmed us here, but a nearby water fountain rejuvenated us and made the village setting feel all the more realistic.

- A long browsing session in the Cărturești Verona book and novelty store, which (as I only later realised), I mistook for the Cărturești Carusel bookstore from the heart of Bucharest's old town. The former is still a wonderful, big and round building with many nooks and crannies filled with books and giftable items. We spent hours there discovering floor after floor of never-ending bookshelves, but also vinyl discs, CDs and more. However, Cărturești Carusel is a restored 19th-century building comprising of six floors and over 10,000 books with a bistro on the top floor. I can't wait to return and visit it too, as I have never previously had the opportunity to do so.

The Palace of the Parliament is another must-see that I can only recommend, although I was only able to visit it on a past occasion. It is the second largest administrative building - and the heaviest building (weighing around 4 million tonnes) - in the world. An opulent, lavish building created during the darkest period of the country's communist era, this edifice boasts 1,100 rooms, with most of the materials used in the construction sourced from Romania. A very nice touch at the end of the tour was the fact that the basement, albeit grey and unspectacular, contained mementoes from the country's past with photos and stories, documents and tales from the people living (and suffering) under the communist regime.
Although on this occasion the time pressure to catch our early post-wedding celebration flight forced us to hire a rental car for the trip to Sinaia, I would normally take the train to this beautiful mountain town. The direct train ride from Bucharest is a comfortable, scenic one hour and thirty minute ride.
Sinaia is a popular town and mountain resort named after the Sinaia Monastery of 1695, around which it was built (the monastery's name was inspired by the Biblical Mount Sinai). King Carol I of Romania built his summer residence, Peleș Castle, in Sinaia in the late 19th century. It is a castle I have visited often and that I remember fondly from my childhood. Because we arrived late in the evening, we could only admire it from afar (note that it is closed on Mondays and Tuesdays). The 66 m tall castle has around 160 rooms and is allegedly the second most touristic castle in Romania after the Bran Castle. The guided tours (available in English) are enjoyable and informative, giving interesting insight and historical facts, but also an overview of the art and designs present in the castle and of the King Carol I of Romania and the Queen Elisabeth of Wied, as well as fascinating titbits from their life in the castle. The castle has, among other things, a Hall of Honour, a royal library, armoury rooms, a music hall, a theatre hall and a concert hall.
The Sinaia Casino (a perfect wedding venue) is located in the "Dimitrie Ghica" park in Sinaia and was also built at the initiative of King Carol I of Romania. Constructions took one year and were finished in 1913. This neo-baroque building can be visited – although it is quite small, it is handsomely flourished and has multiple rooms: a theatre hall, the mirror hall, the Bacara hall, a red-carpeted lobby, among others.

A brief note on Romanian food: although not very vegetarian-friendly (my friend and I struggled a bit with the carb-heavy vegetarian options), there are quite a few stellar dishes one must taste. Firstly, "sarmale" (cabbage rolls filled with rice, vegetables and/or meat), "mamaligă" (polenta), "mititei/mici" ("little ones"; grilled ground meat rolls in cylindrical shape made from a mixture of spiced beef, pork and/or lamb), "ciorbă de burtă" (a traditional, creamy Romanian soup made with beef tripe, garlic, sour cream, eggs and vinegar). Vegetarians can enjoy the rice variety of cabbage rolls and the sour vegetable soups with spicy peppers as well as lent-appropriate dishes, such as "zacuscă" (savoury vegetable spread) and aubergine or bean spread with fried onions. For dessert, I warmly recommend my favourite syrupy cakes, "savarine" (flavoured with rum, yet not too alcoholic, topped with fluffy whipped cream and a thin layer of red jelly decoration) and "papanași" (cottage cheese doughnuts with sweet cream and jam).
In sum, Bucharest is a city that has a lot to offer in terms of cultural sights, beautiful parks and green spaces to explore but also a rich and fascinating, if tumultuous, historical past. Sinaia is a logical segue for those craving hikes and mountain paths, skiing or scenic forest and castle views. I would take this trip again in a very similar format, only with four to seven full days available for in-depth exploration of the hidden areas and yet-unknown parts of both Bucharest and Sinaia.