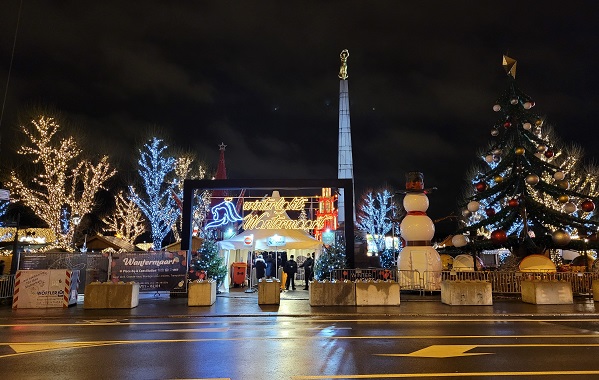 "Wantermaart" in Place de la Constitution, Luxembourg-Ville; Credit: Jazmin Campbell
Another year has almost come and gone. The days are short, the mornings are cold and dark, and we are seeing rising coronavirus cases and new restrictions in Luxembourg and around the world. And yet, there is still reason to be cheerful: vaccination rates are increasing, the sorely missed Christmas Markets have returned to the Grand Duchy, and there has even been a first flurry of snow!
December is a wonderful time to spend with loved ones, cuddled up on the sofa with the dog, drinking hot drinks and watching festive films. Of course, not everyone is fortunate enough to have such experiences, and I spare a thought for those who have lost loved ones recently and those who rely on the generosity of others to make it through these cold nights on the streets.
Christmas Markets
Whilst December is certainly an ideal time to spend at home, there are several reasons to don your warmest winter coat, go out and enjoy what Luxembourg has to offer this festive season. First and foremost, the Christmas Markets are back! After last year's markets were cancelled due to the pandemic, residents and visitors alike can once again delight in the Grand Duchy's beloved but often mispronounced Gromperekichelcher (potato pancakes), some comforting mulled wine in the beautifully designed but ever more expensive Christmas-themed mugs, go ice skating with friends or enjoy scenic views of Luxembourg City aboard the Ferris wheel. More information about Luxembourg City's "Winterlights" festival, which is running until 2 January 2022, is available here.
Of course, these festivities extend beyond the capital, with Christmas Markets and activities taking place across the country: from Dudelange (markets, including a medieval part, open until 19 December) and Esch-sur-Alzette (open until 22 December) in the Minett to Echternach (open from 10 to 12 December) in the Mullerthal region. Highlights include Christmas concerts and film screenings and, for those who enjoy ice skating but don't feel like travelling to Luxembourg City, the Beaufort Ice Park is open throughout December.
The big change this year is that entry to the markets and several other festive activities are subject to presentation of a valid CovidCheck certificate (the Luxembourg equivalent of the EU Digital COVID Certificate), meaning visitors must be either fully vaccinated or recently recovered from coronavirus (the so-called "2G" system, i.e. geimpft – vaccinated / geheelt – recovered), or in some places, a recent negative test result ("3G" system: geimpft, geheelt, getest – tested) is valid, as well.
Festive Dining
In addition to grabbing a snack from the Christmas Markets, several restaurants in Luxembourg are offering festive dining options this winter.
The Mondorf Domaine Thermal recently unveiled its pop-up alpine-themed restaurant, the Mont Dorf, which is open to the public until 31 December 2021. As presented in a recent article on Chronicle.lu, the menu is designed around "the best of alpine cuisine": think raclette, cheese fondue and pierrade.
In the capital, next to the Lëtzebuerger Chrëschtmaart (Luxembourg Christmas Market) in Place d'Armes, the Brasserie du Cercle has once again transformed into a Swiss mountain chalet (Chalet du Cercle). Until early January, the menu includes tartiflette, fondue and raclette, among other festive alpine dishes.
In Luxembourg-Hollerich, Come à la Maison is offering a four-course Christmas menu available to take away (order by 22 December) or for delivery (on 24 December). The Italian restaurant is also organising a special Sunday brunch with a visit from Saint Nicholas on 5 December – of course, Saint Nicholas Day, or Kleeserchersdag, on 6 December is a hugely important event here in Luxembourg, especially for children, who eagerly wait to receive gifts and sweets from De Kleeschen (Saint Nick himself).
Several hotels in Luxembourg are getting in the festive mood, as well. Both Parc Hotel Alvisse in Dommeldange and Hotel Meliá Luxembourg in Kirchberg are preparing special Christmas menus for 25 December.
Just over the border in Belgian Luxembourg, the Van der Valk Hotel Luxembourg-Arlon has been transformed into a "Christmas Village" with live cooking in chalets. On the "all-inclusive" menu are mountain delicacies, hot dishes, cold meats and cheese and mulled wine. This menu is available every Saturday evening until the end of January 2022. The Christmas Village can also be reserved for private events, groups or companies.
Recently, I was also fortunate to attend the American Chamber of Commerce (AMCHAM) in Luxembourg's Thanksgiving Gala Dinner – a CovidCheck event at DoubleTree by Hilton Hotel Luxembourg with around 200 attendees in their most elegant clothes (which made a pleasant change from my usual, slightly sportier teleworking attire) and a scrumptious turkey dinner. Such events are far and few between these days, which make them all the more special.
These are just some of the many things going on in and around Luxembourg this festive season. Here's hoping we will be able to enjoy all these activities safely and without too many restrictions in the coming weeks.
Happy holidays and stay safe everyone!