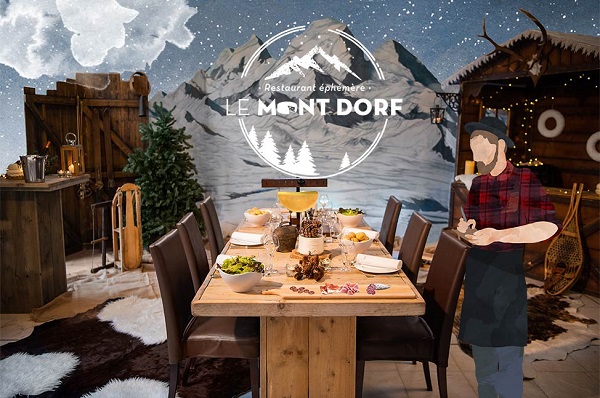 Mont Dorf restaurant;
On Thursday 11 November 2021, the Mondorf Domaine Thermal unveiled its pop-up themed restaurant, the Mont Dorf, which opens to the public tomorrow, Friday 12 November until 31 December 2021 in Mondorf-les-Bains.
The Salle de Fetes, located in the Anciens Thermes building, together with its outdoor entrance and indoor lobby / bar, has been transformed into an alpine-themed restaurant which serves raclette, fondue and other alpine specialities.
The Anciens Thermes building has been dedicated to providing thermal treatments up to 1988, and in 2001 became the Salle de Fetes, a place for events which also housed the famous Maus Kätti Brewery; it now hosts a restaurant worthy of the most beautiful high mountain resorts. The "Mont Dorf" transports diners to the atmosphere of Swiss chalets and Austrian huts where friendliness, warmth and hospitality are legion.
The menu is designed around the best of alpine cuisine, namely cheese: as a raclette, fondue or pierrade, either Swiss or French. The menu also offers an equally tasty range of comfort dishes such as a wild boar stew or the house burger.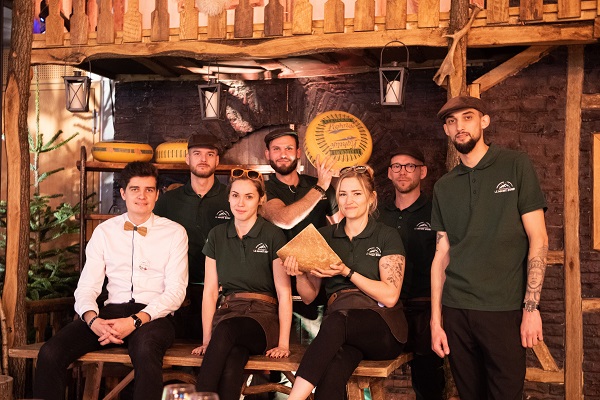 The restaurant seats around 130 diners at a time (including some on the balconies).
Le Mont Dorf restaurant is open Thursdays to Mondays, lunchtimes and evenings (open exceptionally on Tuesdays and Wednesdays 21, 22, 28 and 29 December 2021). Two special evenings are also being organised:
- Thursday 25 Nov: Cheesy Ladies Night - Ladies only; Aperitif offered; DJ entertainment; Raffle
- Friday 31 Dec: St Sylvester Night - Party combined with a stay at Mondorf Parc Hotel
As each table is equipped with electrical fondue and raclette apparatus, there are also free electrical sockets available for charging mobile phone and other digital equipment. Before being seated at one's table, the foyer area offers diners to relax over pre-dinner drinks, including both alcoholic and non-alcoholic cocktails.
When talking with Chronicle.lu, a spokesperson for Mondorf Domaine Thermal confirmed that, if this seasonal pop-up restaurant concept is a success, the Mondorf Domaine Thermal may consider extending it into January and possibly beyond, as well as other seasonal-themed concepts.
For details and booking, see https://www.mondorf.lu/en/restaurant-mont-dorf