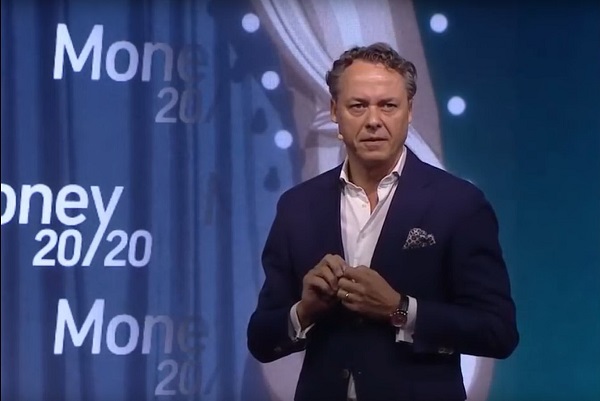 ING CEO, Ralph Hamers;
Money20/20 - the largest financial technology (fintech) event in Europe. So it should be no surprise that ING had a prominent role during Money20/20 in Amsterdam last week.
ING CEO, Ralph Hamers, shared his vision for the future of ING, and banking in general, with an audience of 4,000 people. Ralph, who has been called "the Steve Jobs of banks" before for declaring things such as "people don't need banks, they need banking" and "even I don't have time for banking", firmly stated that ING is building the platform for financial services of the future.
A bank with a purpose
Being open was a recurring theme in Ralph's opening speech: "If you truly want to empower customers, you have to provide them with the most relevant offering – even if some of the products and services are not your own."
Ralph said ING does not have a monopoly on the best ideas for serving customers in a better way. What we have in ING is a very clear purpose: to empower people to stay a step ahead in life and in business. A purpose that does not have the words banking or financial services in it because, as Ralph puts it, "we know our place: we cater for a secondary need".
The way to open banking
"There's one particular characteristic of digital platforms that I think is especially relevant to being the bank of the future," said Ralph. "They are open. Open to individual users and producers. Open to third-parties that provide complementary goods and services. Open to the competition." Not just your own products.
Ralph argued that being open was critical to ING's success and not just because European PSD2 regulation is forcing ING to think this way. "To become a successful platform you need to involve others from outside your own business, invest in them, and get them invested in what you are doing. So we team up with Fintechs and other start-ups, to combine our strengths."
ING already has more than 150 Fintech partnerships, where we collaborate to improve the customer experience and last week we announced partnering with two other Fintechs, FinCompare in Germany and with the UK-based Funding Options in the Netherlands. Both will provide SMEs with greater choice in financing their business.
There you have it: opportunities do not just happen, you create them!
You can watch the highlights of the conference here: