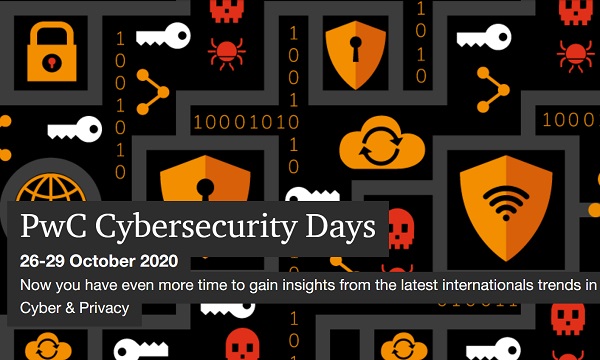 Details:
This year's PwC Luxembourg Cybersecurity Day will take place over four days, from 26 to 29 October 2020.
For Cybersecurity Days 2020, which falls within the Luxembourg Cybersecurity Week, the focus will be on IT security to digital trust: how to help CISOs, DPOs and CEOs ensure they keep the organisation secure in a digital society.
This year comes with a more focussed agenda, tailored over four days:
-
CISO Corner⁠
(26 to 29 October) will offer information security experts the chance to gain technical updates, e-discover promising cybersecurity solutions and attend interactive workshops. International renowned speakers will focus on cybersecurity challenges they are facing in today's sophisticated digital world. Speakers include Philip Zimmerman, Teresa Fritschi, Ken Ducatel and Niek de Visscher
-
DPO Corner
(26 to 29 October) will offer DPOs and data privacy experts the chance to gain technical updates and attend interactive workshops. Renowned speakers will focus on data privacy challenges. Among the speakers are Christophe Buschmann and Marc Lemmer, Data Protection Commissioners at CNPD (Commission Nationale pour la Protection des Données)
-
CEO Corner
(afternoon on 29 October) has been specifically tailored to provide CEOs with an in-depth understanding of strategic challenges around cybersecurity. Philip Zimmermann and Teresa Fritschi are among the speakers
-
Pitching competition:
After an international call for submissions, with more than 20 applications, PwC Luxembourg has selected five cybersecurity companies with relevant solutions for the Luxembourgish market. The Cybersecurity Solution of the Year Award will be conferred by the Jury to the candidate that demonstrates excellence at all levels, from strategy to execution. The Award Night marks the highlight of the Cybersecurity Week Luxembourg on Thursday 29 October 2020. This year, the Award Night will be adapted to the COVID-19 health measures in place and will go "digital". This year's five finalists are: DataVaccinator SARL; Decentriq; pEp Security SA (pEp = "pretty Easy privacy"); Wultra; Trustless.ai.
The complete PwC Cybersecurity Days' agenda is available at
www.pwc.lu/cybersecuritydays
.
Venue: Online
Organiser: PwC Luxembourg
Price: n/a
Reservations: See website
URL: For details, see www.pwc.lu/cybersecuritydays