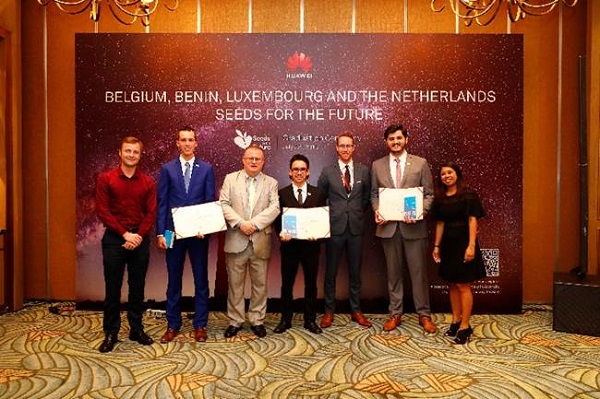 Details:
This year's Seeds for the Future programme, run by multinational technology company Huawei, will go online due to the COVID-19 pandemic; the dates for Luxembourg are 26 to 30 October 2020.
The programme, which is Huawei's main corporate social responsibility (CSR) initiative, first launched in Thailand in 2008 before arriving in Europe three years later. The firm has since partnered with over 500 universities across 126 countries and regions for Seeds for the Future. A total of 5,770 students have already participated, including eight students from the University of Luxembourg since the programme's launch in the Grand Duchy in 2017.
The programme is mainly aimed at STEM (science, technology, engineering and mathematics) students or students with a strong interest in information and communications technologies (ICT). The initiative aligns with the digitalisation strategies of many countries, including that of Luxembourg, and aims to address a shortage of ICT professionals.
Traditionally, successful applicants fly to China for two weeks, during which time they are first immersed in Chinese culture, visit the main sights and learn basic Mandarin in Beijing. The second part of the programme sees students fly to Shenzhen, home to Huawei's headquarters, for hands-on practice, including classes and experiments.
This year, due to the ongoing coronavirus pandemic, the programme has been adapted to an online format and is taking place slightly later in the year than normal. The five-day online programme is structured around four main pillars: company visit (virtual tours, presentations and exchanges with Huawei employees); online courses and live lectures (with Huawei experts and guest speakers); technology journey (virtual visits and exchanges with high tech companies to learn about China's technology development); and Chinese culture tours (virtual visits of iconic sights).
The online programme is composed of six hours of compulsory courses, six hours of live-streamed sessions and a one-hour elective course, as well as free access to additional resources for self-learning about Chinese culture. Students complete tests at the end of the programme, which concludes with a Q&A session and closing ceremony. The full programme is available at https://www.huawei.com/minisite/seeds-for-the-future/program.html.
Students from the University of Luxembourg wishing to participate in this year's Seeds for the Future online programme are invited to submit a CV and motivation letter by midnight on 18 October 2020 to Dorothee de Nazelle, PR Manager at Huawei Technologies Luxembourg S.A., via email: dorothee.de.nazelle@huawei.com. Huawei will then review the applications internally before selecting the qualified applicants.
Venue: Online
Organiser: Huawei
Price: n/a
Reservations: See above