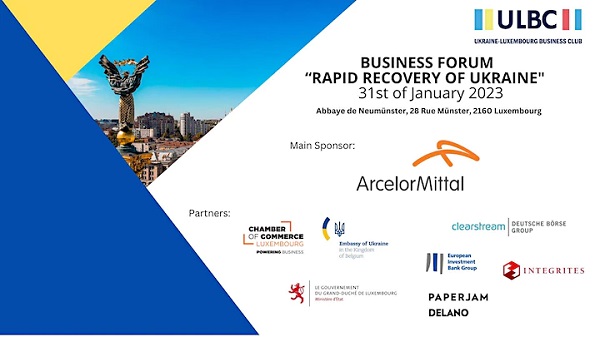 Details:
The Ukraine-Luxembourg Business Club asbl (ULBC), together with its partners, is organising a Ukraine-Luxembourg Business Forum on the topic of "Rapid Recovery in Ukraine" on Tuesday 31 January 2023.
The event is being held at the Abbaye de Neumunster in Luxembourg-Grund from 09:00 - 17:30.
Although the war in Ukraine is far from over, planning has begun for the post-war period. Ukraine plans a structural transformation that is unprecedented in modern history.
The Forum will rigorously examine the challenges involved from a range of stakeholder perspectives. With its financial market infrastructure that supports the asset management industry globally, and its range of European institutions essential to the public aspects of Ukrainian reconstruction, Luxembourg is ideally positioned for this discussion.
The Forum is being held under the patronage of the office of the Prime Minister of Luxembourg, in cooperation with ArcelorMittal (the largest foreign direct investor in Ukraine), the European Investment Bank, Clearstream and others.
The Forum will bring together direct investors and Ukrainian project sponsors, the Luxembourg funds industry, multilateral financial institutions, as well as governments and public policy organisations from Ukraine and Europe. Ukrainian ministers and members of parliament, as well as business leaders will attend to explain investment needs and opportunities.
The forum will include panels, workshops and discussions.
Attendance at the forum is free-of-charge, but prior registration is mandatory (see https://RapiderecoveryofUkraine.eventbrite.co.uk)
A Charity Gala Dinner is being held that same day, at the Cercle Cité, the proceeds of which will be for the benefit of schools and sport schools in Ukraine which were affected by the war. Tickets cost €500 (€350 for ULBC members): payment to the ULBC a/c IBAN LU95 0019 5155 2875 5000.
Venue: Abbaye de Neumunster in Luxembourg-Grund
Organiser: Ukraine-Luxembourg Business Club asbl (ULBC)
Price: €500 (€350 for ULBC members):
Reservations: see above