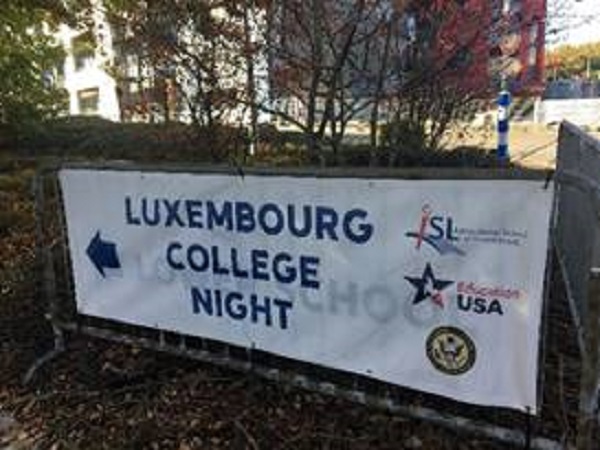 Details:
The fourth annual "Luxembourg College Night", organised by the US Embassy in Luxembourg in collaboration with Education USA, will be taking place virtually on Tuesday 27 October 2020, from 17:30 to 21:00.
Due to COVID-19 restrictions, Luxembourg College Night is going virtual this year, forming part of "The Benelux Virtual College Fair".
In addition to the 35 American colleges and universities, advisors from Education USA, CEDIES and the US Embassy in Luxembourg will be available to share information and answer any questions students, parents and teachers have about pursuing their higher education goals in the US, financing their studies in the US and getting a student visa.
Schedule:
17:30 - 18:00: Introduction to Studying in the USA
18:00 - 20:00: Virtual College Fair Rotations
20:00 - 21:00: Virtual College Fair "Free Time"
Participating institutions:
California State University, Monterey Bay in Seaside, California
Central New Mexico Community College in Albuquerque, New Mexico
Creighton University in Omaha, Nebraska
Embry-Riddle Aeronautical University in Daytona Beach, Florida
Fordham University in New York City, New York
Grand Valley State University in Allendale, Michigan
Green River College in Auburn, Washington
Lipscomb University in Nashville, Tennessee
Loyola Marymount University in Los Angeles, California
Miami University in Oxford, Ohio
Northern Arizona University in Flagstaff, Arizona
Nova Southeastern University in Fort Lauderdale, Florida
Otterbein University in Westerville, Ohio
Portland State University in Portland, Oregon
Purdue University in West Lafayette, Indiana
Rhodes College in Memphis, Tennessee
Rutgers University in New Brunswick, New Jersey
Savannah College of Art and Design (SCAD) in Savannah, Georgia
Seattle Colleges in Seattle, Washington
St. Cloud State University in St. Cloud, Minnesota
Stony Brook University – The State University of New York in Stony Brook, New York
Syracuse University in Syracuse, New York
Temple University in Philadelphia, Pennsylvania
University of California, Irvine in Irvine, California
University of Delaware in Newark, Delaware
University of Southern Alabama in Mobile, Alabama
University of South Florida in Tampa, Florida
University of the Incarnate Word in San Antonio, Texas
University of Vermont in Burlington, Vermont
U.S. Coast Guard Academy in New London, Connecticut
U.S. Military Academy at West Point in West Point, New York
Valparaiso University in Valparaiso, Indiana
Villanova University in Villanova, Pennsylvania
Whitworth University in Spokane, Washington
Registration is free and can be done online at www.educationusa.be/upcoming-events/benelux-college-fair.
Venue: Online
Organiser: US Embassy in Luxembourg; Education USA
Price: Free
Reservations: See above