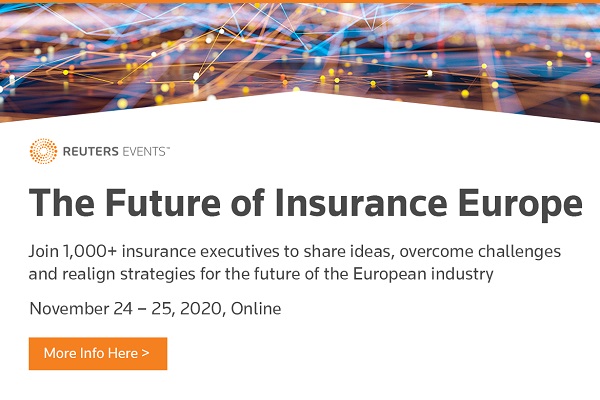 Details:
Organised by Reuters Events, The Future of Insurance Europe event is being held online on Tuesday 24 and Wednesday 25 November 2020.
This event is where CEOs and C-level executives from across European insurance markets join forces to share ideas and realign strategies in order to build business resilience in this dynamic new commercial environment.
The event provides attendees with strategies to transform trends and emerging risks into opportunities, tackling regulation and accelerating digitalisation efforts at a time where agility and transformative change is paramount to remain competitive in today's markets.
European insurers recognise the business-critical need to understand, engage and forecast future business impacts, to formulate strategies to effectively utilise data, and provide the right people and processes with cutting-edge technology, guidance, and leadership to succeed.
This is the only meeting in the world where the CEO and C-suite community share live insights, to tackle this reality, talk strategy and engage in newsworthy discussions to enact real change and shape the future of the European insurance industry.
For further details, including registration, see https://reutersevents.com/events/insuranceeurope/
Venue: Online
Organiser: Reuters Events
Price: See website
Reservations: See above