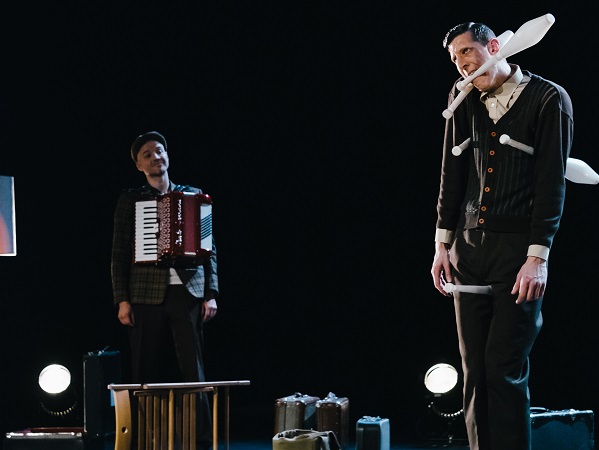 Details:
The Spot the Drop juggling duo will kick off the 2020/21 season at CAPE - Centre des Arts Pluriels Ettelbruck on will be pleased to welcome on Saturday 3 October 2020 at 20:00.
With their wordless show "Stehfleisch und Sitzvermögen", this German duo from Wuppertal promises entertainment for the whole family. The show, which was originally scheduled to take place at the end of April at CAPE, will pose, in an absurd mixture of high-level juggling, grotesque movements and acrobatic comedy, the following question: Where does habit end and the madness begin?
Prisoners of daily routine, two jugglers are going through a day that never seems to end... With their unique rituals and strange manias, they embark on a maze of perfectly synchronised movements. Folding chairs, balls, hoops, clubs, luggage and other gadgets form a complex world that seems hopeless. This foray into absurdity, meticulously choreographed and meticulously timed, elevates this duo to the ranks of the most innovative artists in their discipline.
Due to the physical distancing measures currently in force in theatres, online reservations will not be possible. Instead, tickets can be purchased at the CAPE ticket office, preferably in advance, during the usual opening hours (Monday to Friday from 13:00 to 18:00), via tel.: 2681-2681 or via email: billetterie@cape.lu. Tickets cost €21, €10.50 for under-26s or €1.50 with a Kulturpass. Further information is available on the CAPE website at www.cape.lu.
Venue: CAPE
Organiser: CAPE
Price: See above
Reservations: See above