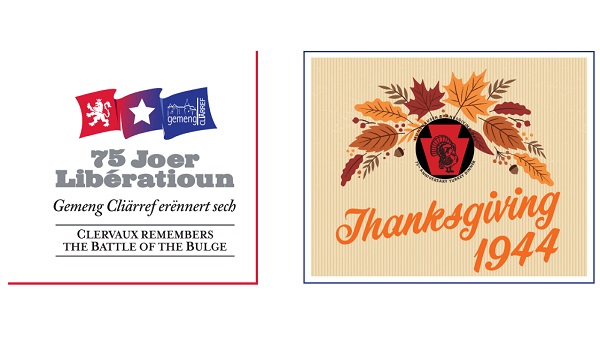 Details:
The municipality of Clervaux is holding the event "Thanksgiving Day 1944/2019" on Saturday 23 November 2019 in Munshausen in northern Luxembourg.
Together with its partners, the Cercle d'Etudes de la Bataille des Ardennes (CEBA), GAUL's Legacy Tours and the "Robbesscheier" and under the auspices of the US Embassy Luxembourg, the municipality of Clervaux is organising this unique historic event in the context of the 75th anniversary of the two liberations of Luxembourg by US armed forces in 1944/45.
"Thanksgiving Day 1944/2019" will take place in the village of Munshausen near Clervaux this Saturday around the installations of the "Robbesscheier". From 10:00 to 18:00, there will be "living history" exhibitions, reenactments and demonstrations by various actors recreating a lively US Army Camp of 1944 in the small Luxembourg village of Munshausen with GI soldiers interacting with local villagers.
The "living history" exhibitions are organised by the 28th US Infantry Reenactment Group (Leeuwarden NL) and Quadriga Luxembourg, and will be attended by His Royal Highness the Grand Duke of Luxembourg at 16:00. One of the key attractions will be an original US Army field kitchen in action preparing food in a unique setting, as it took place all over Luxembourg back in November 1944.
Admission to the event is €5 per person. Free entry for children under 12 years. Food and beverages are available on site. Reservation for the gala turkey dinner has already closed.
It should be noted that the village of Munshausen will be closed to traffic the entire day. It is therefore recommended that visitors use the shuttle services which are scheduled from 09:30 to 21:00. The Park & Ride stops are as follows: P&R Marnach - Block B Nordstrooss Shopping Mile, P&R Clervaux Hall Polyvalent - Gare - Place Libération, P&R Heinerscheid - Cornelyshaff and P&R Drauffelt – Gare. Please note that the shuttle service will be suspended during the official ceremony, between 16:00 and 16:30.
Venue: "Robbesscheier", Munshausen
Organiser: See above
Price: See above
Reservations: n/a