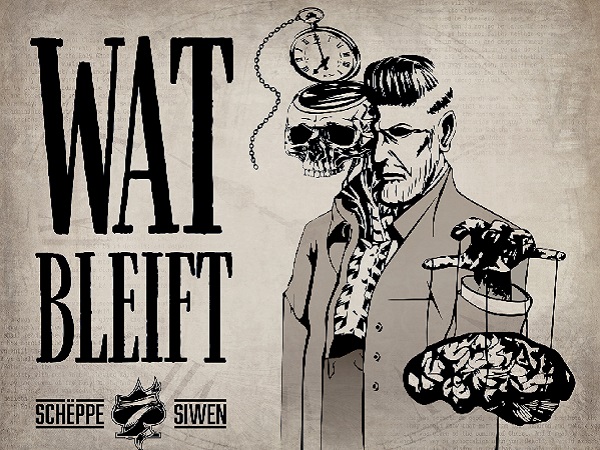 Details:
Luxembourg Celtic folk-rock band Schëppe Siwen will release their new album "Wat Bleift" at the Grand Duchy's first "Folkpunkfestival", organised by the band and taking place at Melusina in Luxembourg-Clausen on Saturday 23 November 2019 at 19:30.
Schëppe Siwen have been working on the album for almost three years and drew inspiration mainly from lead vocalist and violinist Jean-Marc "Jojo" Wagner's one-year travel around the world. The song lyrics are all in Luxembourgish and mostly consist of double rhymes often with double meanings behind the expressed ideas.
According to the band, the topic of the album evolves around the concepts of time and transience of human kind, nature and individual social well-being. The album also combines the musical genres of ska, punk, reggae and rock, all under the umbrella of fast-paced folk music.
To present the new album, Schëppe Siwen are organising the first Folkpunkfestival in Luxembourg later this month. The event will bring together three different bands, all of them singing in their mother tongues. These include a sextet from France, "La tournée du Bocal", who offer lively French/Balkan ska folk in their varied and original style, a quintet from Germany, "Fatum", who play speed folk shaped by a combination of Polka and Punk, and an acoustic brass octet, "Hunneg-Strëpp", who interpret modern pop songs in a funky and energetic way. DJ Djails will conclude the evening.
Pre-sale tickets cost €20 and include a copy of Schëppe Siwen's new album plus a little surprise. To purchase tickets, visit https://www.luxembourg-ticket.lu/en/8/eid,19435/sch%ebppe-siwen-and-friends.html. Doors open at 19:30
Venue: Melusina (145 Rue de la Tour Jacob, 1831 Luxembourg)
Organiser: Schëppe Siwen
Price: See above
Reservations: See above