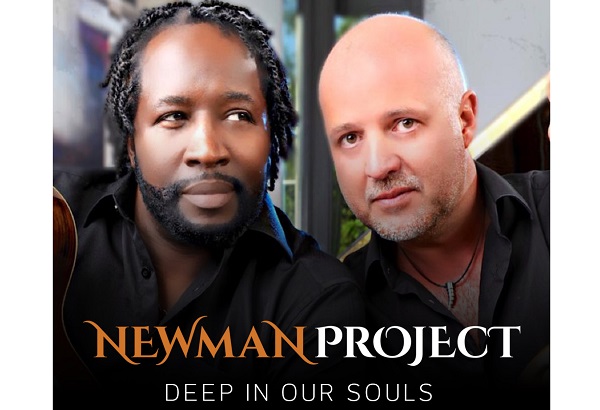 Details:
On Saturday 9 November 2019, the Luxembourg-based "Newman Project" will release their pop-rock single and video "Deep in our Souls" featuring vocalist Myk Sno' at Brasserie Wenzel in Neumünster Abbey at 20:00.
Newman Project was founded in Luxembourg in 2019 by saxophone player and composer Fernand Neumann. The project's starting point was a CD called "Saxy Lounge" that Neumann recorded some time ago featuring electronic groovy lounge music with saxophone melodies on top. The idea of the project is to reproduce that sound in a live setting with real musicians.
Myk Sno' is a singer, songwriter and producer who grew up in Indiana, USA. He currently lives near Kaiserslautern in Germany. In 1998, he joined the R&B group "All That" and in 2004, he founded "Genuine Men" together with Kevin Iszard and Will G. In collaboration with the international scene, Myk was able to play as a supporting act and opening act for US artists and groups such as Usher, Joe, KC & JoJo, R. Kelly, Temptations, Franky Beverly and Mase, 69 Boys and Genuwine, as well as for European stars such as Xavier Naidoo, Ayman, The Weather Girls and Die Schürzenjäger.
The Newman Project line-up is variable but currently consists of Fernand Neumann (saxophone), Sacha Heck (bass), David Lemmer (guitar), Steve Krippler (drums), Christophe Reitz (electric violin). On 9 November, Remo Cavallini will play the guitar, Jeff Schmidt will be on keyboards and Myk Sno' will be on vocals. The videoclip was produced by the young startup "Foqus Collective".
The single release will take place within the framework of the "ArtisticaMente" concert series by italian singer Manuela Rufolo who will also present her new band project. The band will perform funk soul and pop covers along with original songs from Manuela, allying her vocal skills with her songwriting activity, which is mainly expressed through Italian and English lyrics, with evocative and energetic songs. Her songs are about authentically exploring her inner world made of fears, hopes and love. It can be through the intimate connection with nature or the observation of details which capture her attention, that she can start the journey of discovery and expression. The band consists of Daniela Kruger on bass, Virgil Magri on drums, Davide Bottiglieri on guitar and Merveil Doussiema on keyboards.
A buffet will be available from 19:00 to 20:00 (€20 per person), but guests can also come for a drink at Brasserie Wenzel. Reservations are recommended to secure a table via tel.: 262-052-985 or -982.
Venue: Brasserie Wenzel, Neumünster Abbey
Organiser: ArtisticaMente, Neumünster Abbey
Price: n/a
Reservations: See above