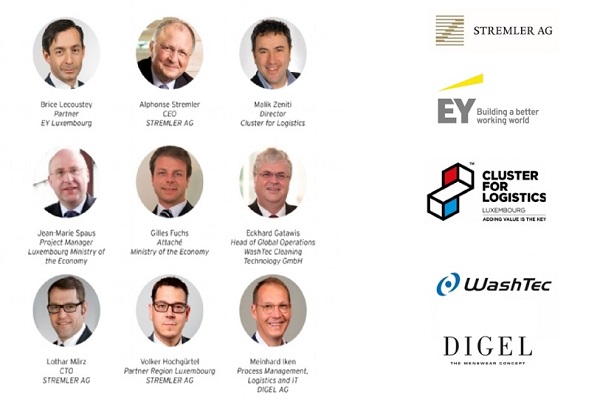 Details:
EY Luxembourg, Cluster for Logistics and STREMLER AG are organising an event dedicated to improving the responsiveness of value chains on Monday 14 October 2019 at the Luxembourg Chamber of Commerce in Kirchberg, from 11:00 to 14:00.
The event promises to take participants' supply chain performance to the next level with insight into customer service, lead time, inventor levels and asset productivity, among others.
The session will thus feature concrete use cases on performance transformation journeys, an outlook on the Luxembourg High Performance Computer (HPC) capabilities and the new operations alliance between EY and STREMLER.
Programme
11:00 Registration and welcome coffee
11:10 Welcome by Alphonse Stremler (CEO of STREMLER) and Malik Zeniti (Director of Cluster for Logistics)
11:20 HPC Competence Centre and Digital Innovation Strategy of Luxembourg by Jean Marie Spaus (Project Manager at Luxembourg Ministry of the Economy) and Gilles Fuchs (Attaché, Ministry of the Economy)
11:50 Live Demo: Transforming the supply chain by synchronizing performance and demand, by Eckhard Gatawis (Head of Global Operations at WashTec Cleaning Technology) and Lothar März (CTO of STREMLER)
12:30 The EY/STREMLER alliance, by Brice Lecoustey (Partner, EY Luxembourg) and Alphonse Stremler
12:45 Fashion retail: Real-time planning for short lead times by Meinhard Iken (Process Management, Logistics and IT at DIGEL)
13:00 Summary and debrief by Volker Hochgürtel (Partner Region Luxembourg, STREMLER)
13:05 Flying lunch, discussion and networking
14:00 Closing
To participate in this event, register before Monday 7 October 2019 at https://www.clusterforlogistics.lu/events/partners-events/event-detail/2019/10/14/stremler-and-c4l-project-insights-industry4-0.
Venue: Chamber of Commerce (7 Rue Alcide de Gasperi, 2981 Luxembourg-Kirchberg)
Organiser: See above
Price: n/a
Reservations: See above