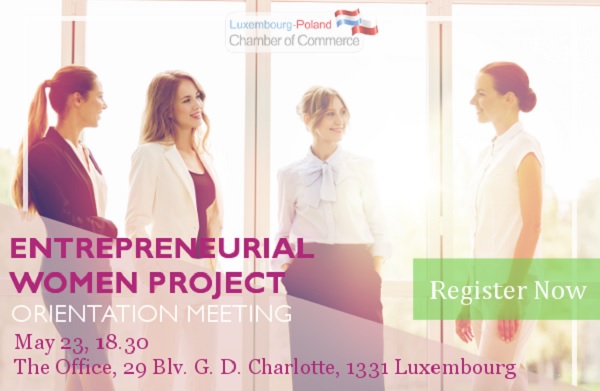 Details:
The Luxembourg-Poland Chamber of Commerce (LPCC) will hold an Orientation Meeting for the sixth edition of the "Entrepreneurial Women Project" on 23 May 2019 at 18:30 at The Office (29 Boulevard de la Grande-Duchesse Charlotte, L-1331 Luxembourg).
The meeting will provide an overview of the project, introduce the team, trainers and participants from previous editions and allow attendees to learn how to become the project's next participant.
The Entrepreneurial Women Project will involve a number of workshops starting on Saturday 30 September 2019 at The Office and on the six following Saturdays, ending with a graduation event on 11 November.
The project targets women with a business idea who are interested in setting up a start-up in Luxembourg. Women with no or little knowledge about launching a start-up will have a unique opportunity to work with highly qualified and experienced trainers from global consulting and legal advisory companies who will discuss different topics such as business entities, idea generation, VAT and taxation, business model canvas, fundraising, project management, coaching and networking, marketing and business plans.
The project comprises more than 50 hours of lectures and case studies guided by coaches from global consulting and legal advisory companies. It is open to women of all nationalities who have a good command of English (the language of instruction of the workshops).
The fee for the programme is €150 for LPCC members and €195 for non-members. For more information, visit https://lpcc.lu/entrepreneurial-woman-project-2019/.
To register for the Orientation Meeting, see: https://docs.google.com/forms/d/e/1FAIpQLSdGHKl5YdzTPjFpmb_oOI9YT7JwUoAX9YFeA1RZt3FsqpG84g/viewform.
Venue: The Office (29 Boulevard de la Grande-Duchesse Charlotte, L-1331 Luxembourg)
Organiser: LPCC
Price: Free
Reservations: https://docs.google.com/forms/d/e/1FAIpQLSdGHKl5YdzTPjFpmb_oOI9YT7JwUoAX9YFeA1RZt3FsqpG84g/viewform