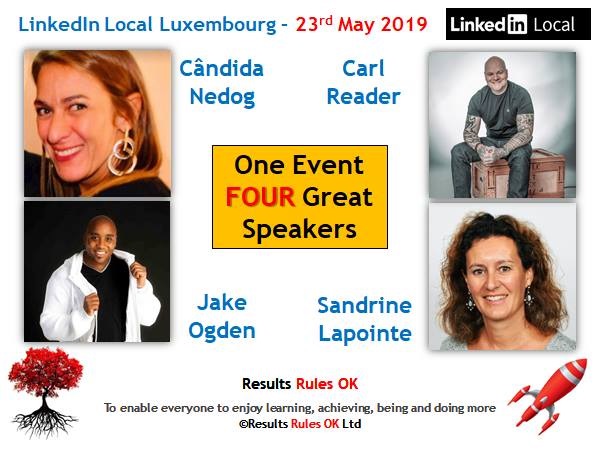 Details:
On Thursday 23 May 2019, The LinkedIn Local Luxembourg networking event will be held at Novotel in Luxembourg-Kirchberg, from 18:30 to 21:00.
LinkedIn Local is a networking event in Luxembourg where participants can relax, meet people, learn a few tips about LinkedIn and perhaps meet their next customer, collaborator or employer.
The event will include relaxed networking, keynote international speakers (Cândida Nedeog, Carl Reader, Jake Ogden and Sandrine Lapointe), tips on the best way to make new connections and a Q&A session with industry specialists in a social and fun atmosphere.
David Holland MBA, one of the top LinkedIn networkers in Luxembourg, is organising this event in parnership with Novotel. David has international business experience, uses LinkedIn as a critical part of his business strategy and will be adding his thoughts and observation and top tips to the event.
The admission fee is €15 plus VAT (non-refundable) and includes a glass of wine, beer or a soft drink as well as snacks. Payment is required prior to the event.
Registration is required at https://resultsrulesok.com/events/linkedin-local-luxembourg-23rd-may-2019.
Venue: Novotel, Luxembourg-Kirchberg
Organiser: David Holland MBA; Novotel
Price: €15 plus VAT
Reservations: https://resultsrulesok.com/events/linkedin-local-luxembourg-23rd-may-2019