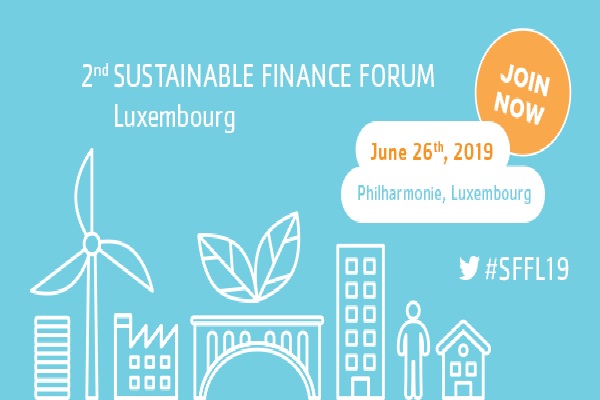 Details:
Organised by Luxembourg for Finance, the second Sustainable Finance Forum is to be held on 26 June 2019 from 08:45 - 17:00 at the Philharmonie.
This event will bring together the European sustainable finance community ranging from policy makers, practitioners, public stakeholders to corporate and retail investors. Several panels and key notes will address the integration of Environmental, Social and Governance (ESG) in institutional investment, impact investing, ESG across asset classes and the role of policy in mainstreaming sustainable finance.
Confirmed speakers include special guest Pierre Gramegna, Luxembourg Minister of Finance, as well as Luxembourg for Finance CEO Nicolas Mackel, Investment Officer at The Rockefeller Foundation Thomas Belazis, Luxembourg Green Exchange Director Flavia Micilotta and Jennifer Reynolds, President and CEO of Toronto Financial Services Alliance (TFSA).
On the agenda will be panels on "integrating ESG in institutional investment", "investing with impact", "From PE to ETFs: ESG across asset classes" and "The role of policy in mainstreaming Sustainable Finance", as well as keynote speeches by Finance Minister Pierre Gramegna, Capital E President Gregory H. Kats and Wim Van Hyfte, Global Head of Responsible Investments and Research at Candriam Investors Group.
The forum will be followed by a networking cocktail.
The full programme is available online at https://www.luxembourgforfinance.com/event/2nd-sustainable-finance-forum/. The event is free of charge but registration is required via the above link.
Venue: Philharmonie (1 Place de l'Europe, 1499 Luxembourg)
Organiser: Luxembourg for Finance
Price: Free
Reservations: See website above