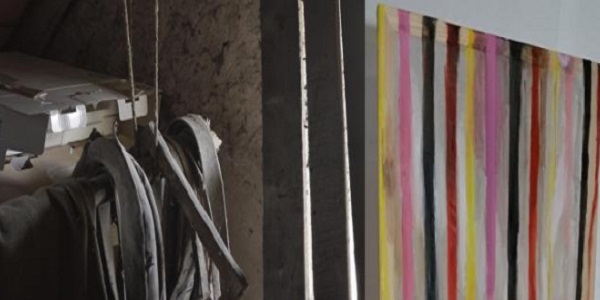 Details:
As part of the exhibition "Points-of-view", Cercle Cité will host a meeting with the artist Suzan Noesen on Tuesday 5 March 2019 at 18:00.
Suzan Noesen's multidisciplinary work combines elements of everyday life with a mysterious and dreamlike universe. The subject of social relations and the management of consciousness are mingled with materialisations of thoughts, feelings and emotions. The viewer can recognise something that is not immediately definable but something that he/she has already lived, felt or thought of one way or another.
The relation of the self to sets of rules of others, memory and perception of time are the subjects addressed by a practice that describes itself as a hike through a vast labyrinthine landscape. Suzan's works, in which she is often implied in a performative way, result as a gathering - a materialisation of a quest that aims at a precision in terms of appeasement, indefinite and indeterminable, whether through painting, photography, performance or video. The interpretation remains floating, the skins and surfaces, material and visual, give rise to multiple contextualisations and stories.
In the installation "Libera Pagina!" Suzan Noesen combines connotations of the old farming context with an intergenerational relationship and the experience of women. The exhibited work is the result of a vast artistic project around the subject of her collocation with her grandmother, a former peasant woman, in rural Luxembourg. "Libera Pagina!" thus creates a space with a dense and poetic aesthetic that invites the viewer to immerse themselves in the atmosphere, analogies and reflections, oscillating between body, moving and pictorial images.
During the meeting, visitors will have the chance to accompany the artist Suzan Noesen, as well as Anouk Wies, curator of the exhibition, in a discussion about the imaginary universe, the different media and the artistic practice that constitute the installation "Libera Pagina!".
The event will take place in the Ratskeller exhibition area and admission is free. For more information, consult https://cerclecite.lu/agenda/le-temps-tissus-de-perceptions-rencontre-avec-suzan-noesen/.
The "Points-of-view" exhibition will run until 17 March 2019, daily from 11:00 to 19:00. Admission is also free.
Venue: Ratskeller exhibition area (Rue du Curé, L-1368 Luxembourg)
Organiser: Cercle Cité
Price: Free
Reservations: n/a