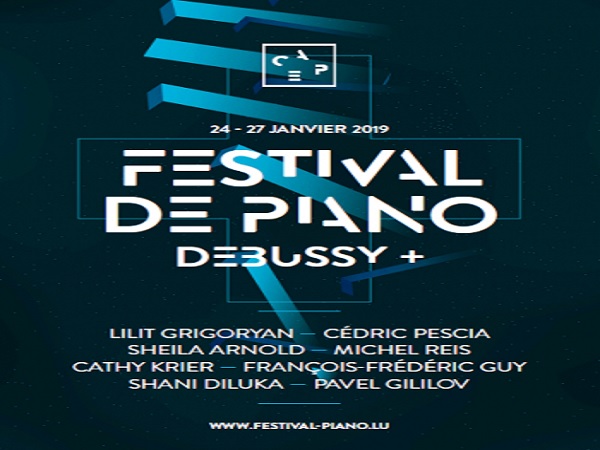 Details:
The CAPE cultural centre is hosting a piano festival dedicated to Claude Debussy from 24 to 27 January 2019.
Following the Frédéric Chopin-inspired piano festival in 2014, the CAPE is honouring another popular composer Claude Debussy.
With 2018 marking the 100th anniversary of Debussy's death, the cultural centre is organising four evenings of piano recitals inspired by the once-underestimated French composer and pianist. The public will appreciate a wide panorama of his works, but also those of his contemporaries and other composers and modern adaptations in a wide variety of musical styles.
Thanks to the active collaboration of the Luxembourg pianist Cathy Krier as co-curator of this new edition of the festival, eight national and international pianists will perform at the CAPE at this tribute to Debussy.
Programme
Thursday 24 January 2019 @ 2000 Lilit Grigoryan and Cédric Pescia
Friday 25 January 2019 @ 1600-1900 Open Masterclass with Lilit Grigoryan
Friday 25 January 2019 @ 2000 Sheila Arnold and Michel Reis
Saturday 26 January 2019 @ 1830 Concert of the piano students of CMNord
Saturday 26 January 2019 @ 2000 Cathy Krier and François-Frédéric Guy
Sunday 27 January 2019 @ 1700 Shani Diluka and Pavel Gililov
Tickets cost €31 or €15.50 (youth price) per night; a festival pass costs €93 or €64.50 (youth price).
More information is available at http//www.cape.lu/fr/115/eid,5955/festival-piano%2B/festival-debussy%2B-%282019%29/CATHY+KRIER+%26+FRAN%C3%87OIS-FR%C3%89D%C3%89RIC+GUY.html.
Venue: CAPE
Organiser: CAPE
Price: €31 or €15.50 (youth price) per night; €93 or €64.50 (youth) for festival pass
Reservations: http://www.cape.lu/fr/115/eid,5955/festival-piano%2B/festival-debussy%2B-%282019%29/CATHY+KRIER+%26+FRAN%C3%87OIS-FR%C3%89D%C3%89RIC+GUY.html