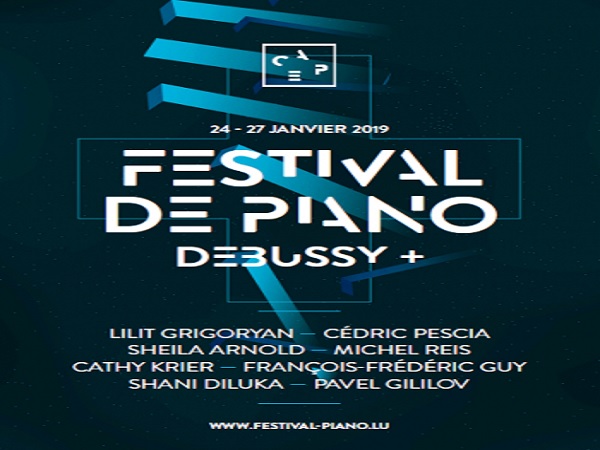 Details:
The CAPE cultural centre is hosting a piano festival dedicated to Claude Debussy from 24 to 27 January 2019.
Following the Frédéric Chopin-inspired piano festival in 2014, the CAPE is honouring another popular composer: Claude Debussy.
With 2018 marking the 100th anniversary of Debussy's death, the cultural centre is organising four evenings of piano recitals inspired by the once-underestimated French composer and pianist. The public will appreciate a wide panorama of his works, but also those of his contemporaries and other composers and modern adaptations in a wide variety of musical styles.
Thanks to the active collaboration of the Luxembourg pianist Cathy Krier as co-curator of this new edition of the festival, eight national and international pianists will perform at the CAPE at this tribute to Debussy.
Programme:
Thursday 24 January 2019 @ 20:00 Lilit Grigoryan and Cédric Pescia
Friday 25 January 2019 @ 16:00-19:00 Open Masterclass with Lilit Grigoryan
Friday 25 January 2019 @ 20:00 Sheila Arnold and Michel Reis
Saturday 26 January 2019 @ 18:30 Concert of the piano students of CMNord
Saturday 26 January 2019 @ 20:00 Cathy Krier and François-Frédéric Guy
Sunday 27 January 2019 @ 17:00 Shani Diluka and Pavel Gililov
Tickets cost €31 or €15.50 (youth price) per night; a festival pass costs €93 or €64.50 (youth price).
More information is available at http://www.cape.lu/fr/115/eid,5955/festival-piano%2B/festival-debussy%2B-%282019%29/CATHY+KRIER+%26+FRAN%C3%87OIS-FR%C3%89D%C3%89RIC+GUY.html.
Venue: CAPE
Organiser: CAPE
Price: €31 or €15.50 (youth price) per night; €93 or €64.50 (youth) for festival pass
Reservations: http://www.cape.lu/fr/115/eid,5955/festival-piano%2B/festival-debussy%2B-%282019%29/CATHY+KRIER+%26+FRAN%C3%87OIS-FR%C3%89D%C3%89RIC+GUY.html