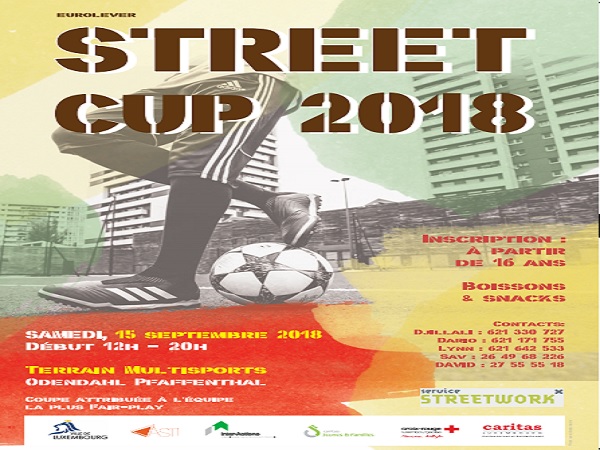 Details:
The 2018 edition of the Street Cup football tournament will be held next Saturday 15 September at 1200 on the multisport field of Odendahl park.
Next Saturday at midday will kick of this year's Street Cup football tournament organised by the Streetwork Service of the City of Luxembourg in collaboration with Caritas, the Luxembourg Red Cross, Asti and Inter-actions. The Street Cup is a meeting place that promotes the practice of sport and its benefits such as respect, social inclusion, cohesion and sharing.
Like last year, the motto of the event will be "fair play". As such, the tournament winner will not be the team who wins the final, but the one that has shown respectful sporting behaviour towards its opponents. In this regard, points will be awarded according to verbal and body behaviour as well as according to team spirit.
16 teams, composed of employees and customers of Streetworkers, will compete on the multisport field of Odendahl park located on Rue Vauban in Pfaffenthal. These associations and actors are, among others, the Hariko of the Luxembourg Red Cross, young people, political refugees, various youth centres, the Abrisud, "Theistuff" of the Foyer Ulysse and the Creamisu.
Admission is free for spectators and catering will be provided throughout the day.
Venue: Odendahl park
Organiser: Streetwork Service of the City of Luxembourg
Price: Free
Reservations: n/a