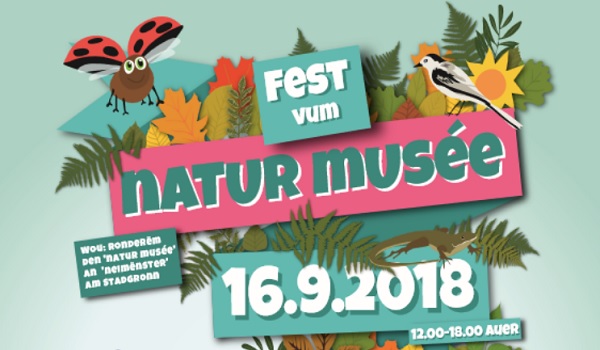 Details:
The traditional 'Natur musée' festival will take place on Sunday 16 September 2018 from 1200 to 1800 in and around the Natural History Museum in Luxembourg-Grund, as well as in the Abbaye de Neumünster (Cultural Centre) in Luxembourg-Grund; the festival is being organised in collaboration with Neimënster, the Nature and Forest Administration, Naturpark Our, Sicona and SOS Villages d'Enfants Luxembourg.

From midday, visitors can participate in about twenty animation stands, DIY workshops, games and discovery-tours. Participation in workshops and entrance to the museum are free-of-charge. This event is a great opportunity to discover various activities for young people offered throughout the year by the services of the National Museum of Natural History including the Panda Club and the Science Club.

Catering based on regional and organic products will be provided.
Venue: Natural History Museum & Abbaye de Neumünster, Luxembourg-Grund
Organiser: Natural History Museum
Price: n/a
Reservations: n/a