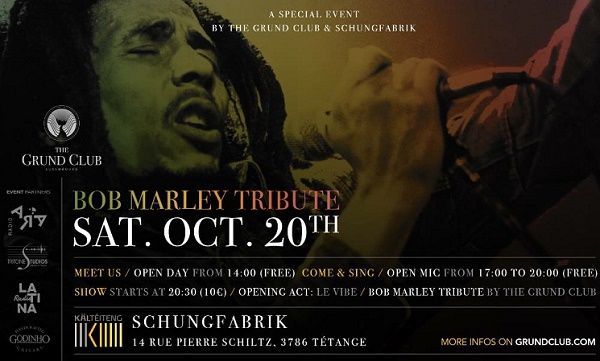 Details:
The Grund Club Songwriters Luxembourg and Schungfabrik are holding a special event on Saturday 20 October 2018, a Bob Marley Tribute, that is taking place at the Schungfabrik in Tétange (14 Rue Pierre Schiltz).
The event is an Open Day from 1400, with an Open Mic from 1700 to 2000 (free admission). At 2030, the show starts (€10 admission), with the opening act Le Vibe being followed by The Grund Club's Bob Marley Tribute - 4 hours of non-stop Marley tunes played live.
For further details, see www.grundclub.com.
Venue: Schungfabrik in Tétange (14 Rue Pierre Schiltz)
Organiser: Grund Club Songwriters Luxembourg
Price: free until 20:30, then €10
Reservations: n/a