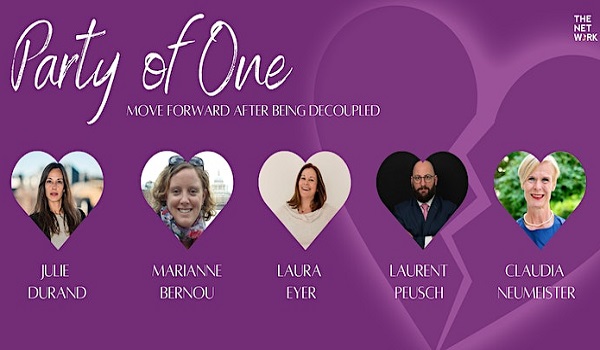 Details:
Luxembourg-based international professional women's association The NETWORK is organising an event dedicated to moving forward after being "decoupled"; this "Party of One" event will take place at QoSQo restaurant (15 Place d'Armes) in Luxembourg-Ville on Wednesday 15 November 2023 from 19:00.
Going through a divorce or break-up is not for the fainthearted. Everyone copes differently and it depends on one's unique circumstances: whose decision was it to separate and/or divorce? Was it mutual? Are there children in the relationship? Is it also a matter of dividing property or a business?
The NETWORK's upcoming event will take a deep dive into life after decoupling, looking at the tips, tools and resources needed to make the great leap and live one's best life. The event speakers will help attendees understand things from financial planning and important legal aspects which should not be taken lightly to how to maintain a good level of personal care during these stressful times and perhaps even getting ready to date again.
The speakers are: Julie Durand (law topics), an accomplished legal professional, dedicated wife and proud mother of three; Marianne Bernou (financial intelligence), a legal and regulatory expert in the world of banking; Laura Eyer (self-care and stress management), a yoga therapist and seasoned expert in teaching simple and effective stress management techniques; Laurent Peusch (new immigration law), a distinguished professional with a wealth of experience in the public service; Claudia Neumeister (dating again), a passionate matchmaker who founded Luxdates (offering matchmaking services) and offers coaching.
Tickets are free for members of The NETWORK and €20 for non-members. Further information, including registration, is available via Eventbrite.
Venue: QoSQo restaurant (15 Place d'Armes, 1136 Luxembourg)
Organiser: The NETWORK
Price: See above
Reservations: See website
URL: For details, see https://www.eventbrite.co.uk/e/party-of-one-move-forward-after-being-decoupled-tickets-743099218767?aff=oddtdtcreator