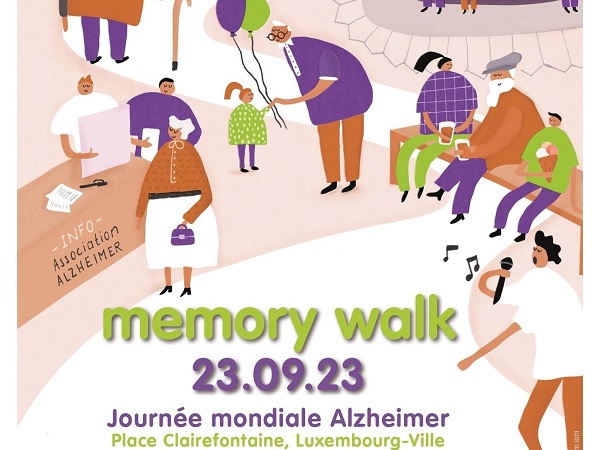 Details:
With World Alzheimer's Day falling on Thursday 21 September 2023, the 22nd traditional Memory Walk will take place from Place Clairefontaine in Luxembourg city on 23 September 2023, from 11:00 - 17:00.
The event, organised by Luxembourg's Alzheimer Association (ALA) aims to inform and raise awareness among the general public. In the relaxed atmosphere, one will have the opportunity to meet people and take part in discussions.
The event will have information stands (on Alzheimer's disease and all other forms of dementia) and activities, as well as culture performances from Serge Tonnar & Band, and also Les Brasseurs.
The Memory Walk allows visitors to show their support for those affected and their loved ones. It consists of a walk of around 40 minutes with a guide through the city. This year, the tour leaves from Place Clairefontaine to Place de la Constitution where participants will have explanations about the "Gëlle Fra" (Golden Lady, which celebrates its 100th anniversary this year) and the history of the Gare district (Bourbon plateau). The tours are accessible to people with reduced mobility. Registration online at https://www.alzheimer.lu or on site the same day. Participation is free.
Programme
12:30 – 14:00: music with Les Brasseurs
15:00 – 16:30: concert by Serge Tonnar & Band
13:00 – 14:30 – 15:30: departure of walks
Dementia – the world is turned upside down: A diagnosis of dementia and the world is turned upside down. Daily routines, interactions and perception of the environment change. All of this destabilizes those affected and their loved ones. We can all do something to support them. People with dementia and their loved ones need to feel accepted and included in society despite the disease.
For further details, click here.
Venue: Place Clairefontaine in Luxembourg city
Organiser: Luxembourg's Alzheimer Association (ALA)
Price: n/a
Reservations: See above