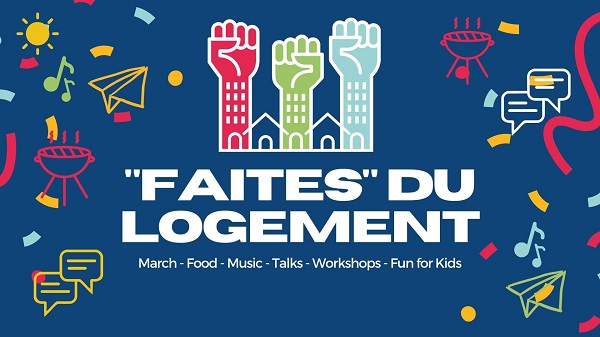 Details:
The associations that make up the Wunnrecht coalition are organising a "Faites" du Logement (Housing party) on Saturday 23 September 2023 from 11:00 to 18:00.
With two weeks to go before the Luxembourg legislative elections, the coalition Wunnrecht is continuing raise awareness of the need for decent, affordable housing, which they state is so lacking in Luxembourg.
The day of action kicks off with a protest march from Luxembourg train station to the Place du Parc in Bonnevoie, where a festive and convivial (but no less militant, according to the organisers) afternoon awaits those participating, with workshops, a round table discussion between civil society and politicians, and testimonies from people affected by the housing crisis.
There will also be live music, food and drinks and activities for children.
A more detailed programme will be announced closer to the date.
Venue: Luxembourg city - see above
Organiser: Wunnrecht coalition
Price: n/a
Reservations: n/a