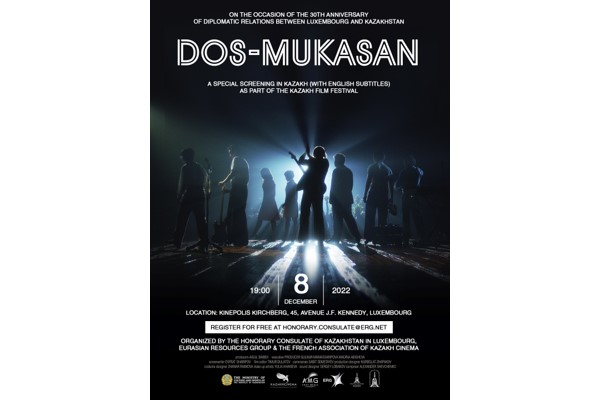 Details:
On the occasion of the 30th anniversary of diplomatic relations between the Grand Duchy of Luxembourg and the Republic of Kazakhstan, a special screening of the Kazakh film "Dos-Mukasan" (in Kazakh language with English subtitles) is taking place on Thursday 8 December 2022 at 19:00 at Kinepolis in Luxembourg-Kirchberg.
This event is jointly organised by the Embassy of Kazakhstan to Belgium and Luxembourg, the Eurasian Resources Group, the Honorary Consulate of the Republic of Kazakhstan in Luxembourg and the French association of Kazakh cinema as part of the Kazakh Film Festival.
Dos-Mukasan is a 2022 Kazakh film by Aidyn Sakhamanov; it is suitable for audiences aged twelve and up. The feature-length biographical drama is about the Kazakh musical band "Dos Mukasan", created by Kazakh students at the Polytechnic Institute in 1967. This is a success story with ups and downs, bitter partings and difficult choices. It is not the Dos Mukasan ensemble's success that makes this story insightful but rather the difficult path that the band members had to tread to achieve it. The ensemble had to navigate concert bans, political distrust, problems with the Polytechnic Institute, exceptional popularity and finally, the very difficult choice between science and art.
Free registration (tickets) via email: honorary.consulate@erg.net.
Venue: Kinepolis Kirchberg, 45 Avenue J.F. Kennedy, L-1855 Luxembourg
Organiser: Embassy of Kazakhstan to Belgium and Luxembourg
Price: see above
Reservations: see above