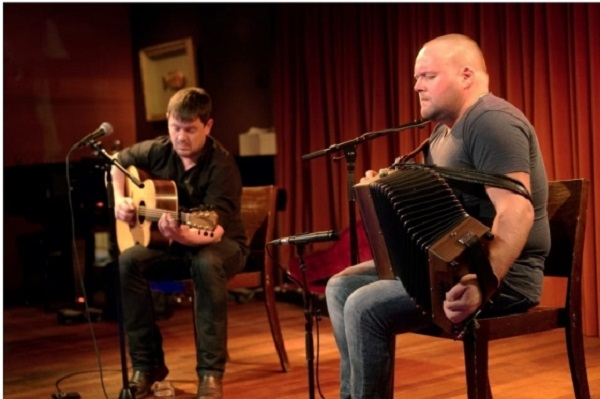 Details:
Comhaltas Luxembourg and Folk-Clupp Luxembourg announced that Shane McGowan and David Munnelly are performing at Neumünster Abbey (neimënster) in Luxembourg-Grund on Saturday 22 January 2022 at 20:00, as part of their Benelux tour.
Dave Munnelly is a virtuoso on the diatonic accordion whose repertoire includes the traditional music of his native Ireland as well as European music and his own compositions. He has played with Niamh Parsons, The Chieftains, De Dannan and the Accordion Samurai (with Riccardo Tesi, Markku Lepistö, Simone Bottasso and Kepa Junkera).
Shane McGowan is an in-demand guitarist, having played with Dave Munnelly for twelve years, but has also played with groups such as Slide, Geraldin MacGowan and John Carty Festival Band.
The concert will take place as a CovidCheck event in Salle Chapelle at neimënster (28 Rue Münster, L-2160 Luxembourg).
Tickets cost €20 or €1.50 with a Kulturpass and can be purchased via email: billetterie@neimenster.lu.
Venue: Salle Chapelle, Neumünster Abbey (28 Rue Münster, L-2160 Luxembourg)
Organiser: neimënster
Price: See above
Reservations: See above