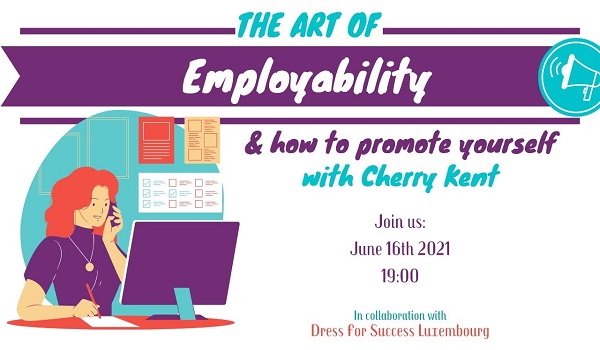 Details:
The NETWORK, Luxembourg's oldest international professional business women's association, is teaming up with one of its chosen charities, Dress for Success Luxembourg, to organise an online event on "The Art of Employability" on Wednesday 16 June 2021, from 19:00 to 21:30.
While COVID-19 made virtual interviewing a necessary practice, its popularity amongst employers is likely to stick post-pandemic. Virtual interviewing is convenient for employers as it allows for a more efficient interview process, eases scheduling conflicts, saves money and broadens the candidate pool.
During The Art of Employability workshop, led by The NETWORK member and Dress for Success volunteer Cherry Kent, the organisers will review the best ways to be successful during a virtual interview and discuss, among other things:
- how to create and update your CV to a modern-day standard;
- how to optimise LinkedIn to assist your job search;
- how to manage online interviews and appraisals;
- where to look for jobs in Luxembourg.
Proceeds from this event will be donated to the following three local charities: Dress for Success; Think Pink; Femmes en Détresse.
Registration closes on Monday 14 June 2021 at 12:00. Further details, including registration, are available on the dedicated Eventbrite page.
Venue: Online (Zoom)
Organiser: The NETWORK; Dress for Success Luxembourg
Price: See website
Reservations: See above
URL: For details, see www.eventbrite.co.uk/e/the-network-the-art-of-employability-tickets-156333998197?aff=odeccpebemailcampaigns&utm_source=eventbrite&utm_medium=ebcampaigns&utm_term=ctabutton&utm_campaign=838316&mipa=ABIdvVvuK2IZMQeJKfHRcM-Lqjh3yf0TUaTQcsUbjwv2MY5kAz3N6so0eH