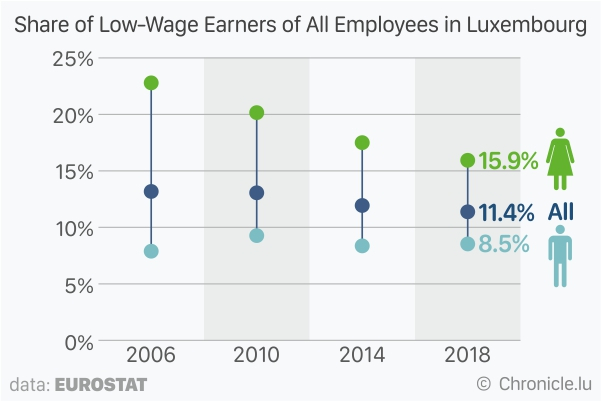 Data compiled from the European statistics agency Eurostat revealed that 15.9% of female employees in Luxembourg were low-wage earners in 2018 - nearly twice as high as that of men (8.5%).
Low-wage earners are employees who earn two-thirds or less (<75%) of the national median hourly earnings.
The median hourly pay (defined as half of employees earning more than this value and the other half earning less) was €19.59 in Luxembourg in 2018.
In turn, the low-wage earnings threshold in Luxembourg was €14.69 in 2018, meaning 15.9% of women employees had gross hourly earnings of €14.69 or less in 2018.
The gross hourly earnings refer to pay before tax and social security deductions in the reference month of October, excluding overtime, allowances, bonuses, etc.
The data compiled is part of the Structure of Earnings Survey (SES), which occur every four years and cover all enterprises with at least ten employees in all economic activities except agriculture, forestry, fishing, public administration and defence, private households and extra-territorial organisations. The ten employees per enterprise exclude apprentices and interns.
The women to men ratio of low-wage earners decreased from 2.9 fold in 2006 to 1.9 fold in 2018, showing progress but women still remain disadvantaged.
The low-wage earnings threshold also increased from €11.78 in 2006 to €14.69 in 2018, up 24.7%.
The share of total employment made up by low-wage workers in the European Union in 2018 was 15.2%; 12.5% for men and 18.2% for women.
Lowest share of low-wage earners was recorded in Sweden (3.6%), Portugal (4.0%) and Finland (5.0%) and the highest Romania (20.0%), Ireland (19.8%) and Greece (19.7%).
The next Structure of Earnings Survey (SES) is scheduled for October 2022.