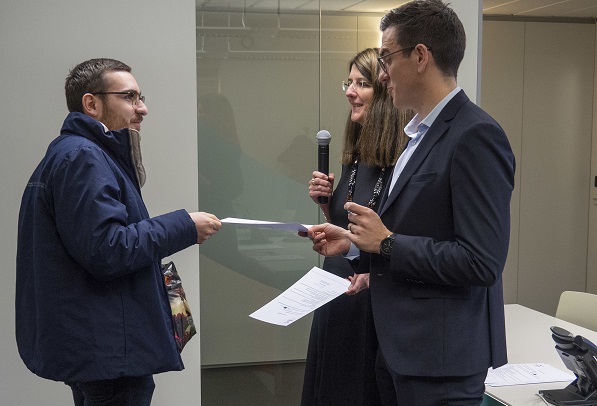 Gaby Wagner, ADEM deputy director, and Tom Oswald, general coordinator from Ministry of Labour, Employment and the Social and Solidarity Economy, handing out certificates; Credit: ADEM
Luxembourg's Employment Agency (ADEM) yesterday announced that 95 young jobseekers received a certificate of success following their completion of the #YouthYourFuture training.
On Monday 9 March 2020, 95 young applicants registered with ADEM received certificates for having taken part in the #YouthYourFuture training provided by Gaby Wagner, deputy director of ADEM, and Tom Oswald, general coordinator from the Ministry of Labour, Employment and the Social and Solidarity Economy.
The #YouthYourFuture programme, led by ADEM and co-financed by the Employment Fund and the European Social Fund, allows candidates selected by ADEM to benefit from personalised coaching that helps them develop their personal and digital skills, set a realistic professional goal and find their future job.
Gaby Wagner explained: "Some young people often have difficulties in developing a realistic and achievable professional project, because they have little knowledge of the job market, nor a concrete vision of their skills and their employability compared to existing offers. This problem is all the more recurrent among young people with or with little qualification, or recognised professional experience".
This project is therefore aimed at young job seekers under the age of 30, who lack a realistic professional project, recognised qualifications or professional experience or who possess the status of reclassified external professional, therefore unable to carry out the tasks related to their last workplace.
As soon as they register with ADEM, these jobseekers are not referred to a professional advisor, but registered directly in a personalised framework and are invited to an information session aimed at presenting the #YouthYourFuture course.
The course includes several phases spread over three months, for a total duration of 111 hours during which they benefit from several intensive training courses, including soft skills training, assessment of skills and behavioral attitudes in a professional context, digital skills training, orientation through the identification of trades / functions and finalisation of a professional project integrating in a sustainable way with the prospects of the job market and support, individual and collective in the development of his / her professional project. At the end of the course, they obtain a final assessment which includes an overall summary of the coaching and the formalisation of a final evaluation report which will be sent to the future professional adviser of the young jobseeker.
Indeed, the objective of the programme in 2020 is to support 360 ​​young jobseekers in this way.
To carry out this project, ADEM called on external service providers, namely House of Training, the Chamber of Employees, Spring Professional and Youth@Work, who divided the groups according to their areas of expertise.
Tom Oswald commented: "The European Social Fund underlines the social dimension of European programmes in general. Thanks to #YouthYourFuture, young people are aware of their abilities. By focusing on their strengths, they increase their chances in the job market".