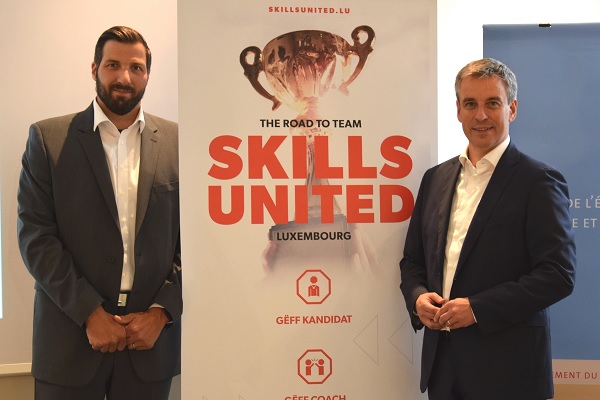 L-R: Gil Belling, President of Worldskills Luxembourg ASBL; Claude Meisch, Minister of National Education, Childhood and Youth; Credit: MENEJ
Tuesday saw the launch of a new campaign promoting vocational training and competitions of trades and professions among young people in Luxembourg: Skills United.
The campaign, launched by Minister of National Education, Children and Youth Claude Meisch and the President of Worldskills Luxembourg ASBL, Gil Belling, aims to create a positive and competitive image of vocational training while encouraging young people to believe in their talents and to develop them to achieve the best result.
It also aims to motivate more young people to participate in national and international competitions of trades and talents, to recruit new coaches from the school and professional environment to supervise them and to find partners (schools, companies) ready to make the necessary resources for participation available.
High level competitions, such as LuxSkills, EuroSkills and WorldSkills, are considered an excellent platform to highlight the knowledge and know-how of Luxembourgish talents. They are also a showcase for business representatives looking for qualified and talented staff. Modernised and innovative, vocational training currently offers more opportunities than before. This offer is constantly adapted and training helps to meet the challenges of today and tomorrow, in light of the disappearance or transformation of certain professions and occupations or those that will be created in the future as technology changes.
For Minister Claude Meisch, "the opportunity to compete with the best in each field helps to cultivate the motivation of young people and encourages them to excel and achieve excellence. The participation of Luxembourg in national and international competitions also testifies to the very good level of our professional training".
The campaign is based on several elements: posters and leaflets distributed in high schools and businesses, an advertising campaign in the media and a website, www.skillsunited.lu, online as of May 2019. It will also serve as recruitment and registration platform for candidates, experts and partners for the 10th edition of LuxSkills, organised in 2020, EuroSkills and WorldSkills.