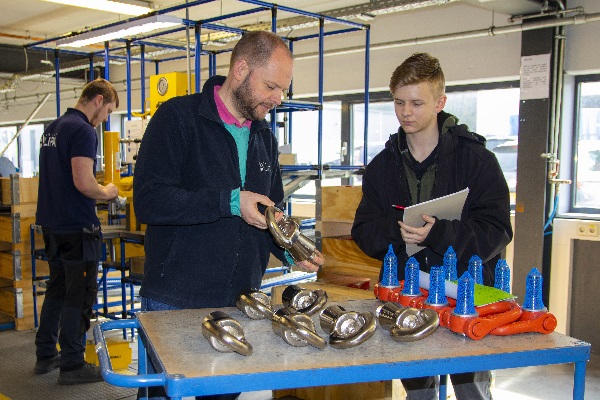 CODIPRO Director Christophe Losange with student Jeff Bodé; Credit: CODIPRO
The 10th edition of the Job Shadow Day, organised from 1 to 5 April 2019, brought together 140 students and 75 companies.
Job Shadow Day, organised by Jonk Entrepreneuren Luxembourg asbl in partnership with FEDIL and the Chambre des Métiers, allowed students to have a glimpse of the world of work by accompanying a business leader for a full day.
This year's programme saw a record number of students and companies participate. Among them was CODIPRO, a company of ALIPA Group, which welcomed Jeff Bodé, a student of the Emile Metz private secondary school. The event offered the student an opportunity to discover life in the company with CODIPRO Director Christophe Losange, as he observed first-hand the operation of the company.
Jeff Bodé commented on his experience: "It's very interesting to discover how business is going and to learn more about each other's work. I am quite impressed, for example, to discover that the sales department works in pairs! When a salesperson is in the field, he works closely with his buddy present in the office." He added: "It was a lot better than I expected. People are really hospitable and I can not believe how much work there is to run such an industry."
The Job Shadow Day project is designed to enable students to actively participate in an ordinary working day in a business and to receive important insight into professional life.