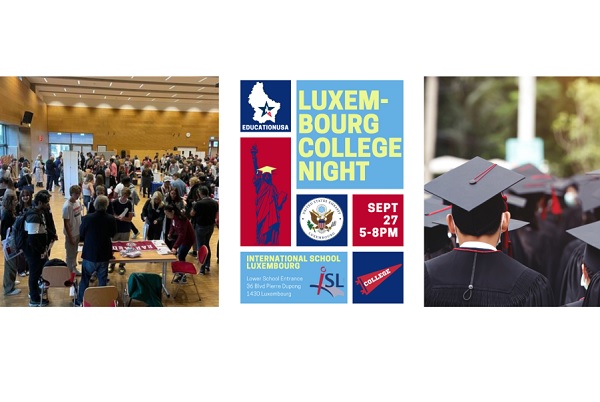 The US Embassy Luxembourg, EducationUSA and the International School of Luxembourg (ISL) have announced they will host the sixth annual Luxembourg College Night at the ISL on Wednesday 27 September 2023 from 17:00 to 20:00 in Luxembourg-Hollerich.
This American-style university fair will bring over 20 US universities to Luxembourg. Students interested in academic opportunities in the United States are welcome to attend.
The US Ambassador to Luxembourg, Tom Barrett, will open the event with a welcome address. An information session on the application and enrolment process at US universities will follow. From 18:00 to 20:00, attendees will be able to visit the exhibition stalls of over 20 American universities and organisations. Attendance is free.
The Luxembourg College Night web page is available at: https://lu.usembassy.gov/join-us-for-luxembourg-college-night-september-27-2023/
This year's participants include:
American University of Paris (France)
Berkeley College of Music (Boston)
Burlington VTest
Central European University (Vienna, Budapest, New York)
College of the Canyons (California)
College of William & Mary (Virginia)
Columbia College Chicago (Chicago)
Cornell University Alumni Luxembourg
EducationUSA Luxembourg
ETS Global / TOEFL
Florida Institute of Technology (Florida)
Fulbright Belgium & Luxembourg
Green River Community College (Washington)
Harvard University Club of Luxembourg
Indiana University Bloomington
International School of Luxembourg
Luxembourg Ministry of Higher Education & Research (AideFi) Mengstudien.LU
Miami University (Ohio) Luxembourg Campus (MUDEC)
Rice University (Houston)
Rutgers University Alumni Lux
Southwestern University (Texas)
St Cloud State University (Minnesota)
Syracuse University (New York)
Temple University (Philadelphia)
The New School (New York)
University of Oregon (Oregon)
University of Wisconsin Milwaukee (Wisconsin)
US Embassy Luxembourg Consular Section
Webster Leiden Campus (Leiden)
For more information on the event, contact Luxembourg's EducationUSA Adviser Charlene Schuessler via email : cschuessler@educationusa.org and educationusaluxembourg@state.gov.