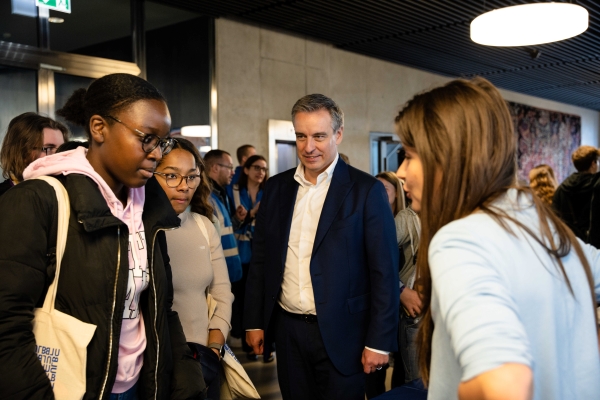 Credit: MESR
On Thursday 27 and Friday 28 October 2022, the 36th edition of the Student Fair, organised by Luxembourg's Ministry of Higher Education and Research in collaboration with ACEL (Association of Luxembourg Student Circles), took place at the Belval campus of the University of Luxembourg.
About 6,000 visitors, including students and parents, visited the university campus for a direct exchange of information. About 100 exhibitors, including more than 50 national and international higher education institutions, more than 30 student circles and associations, and various embassies, informed the visitors about higher education opportunities in seventeen countries. Representatives of Luxembourg's Ministry of Higher Education and Research (MESR) also provided information on studies and state financial aid on their stand. Alongside these exchanges, interested visitors could follow live, on site or online, some 20 interactive webinars.
"Post-secondary orientation is a crucial stage in the life of any future student. I am all the more delighted to see the persistent interest aroused by the Student Fair and to note that there is a strong demand from visitors", underlined Claude Meisch, Minister of Higher Education and Research, during his visit to the Student Fair. "I also welcome the opportunity for future students to learn virtually well beyond the two days at Belval, allowing them to think more deeply about their future." Indeed, since 24 October 2022, students in their final semester and the interested public have had the opportunity to learn, via a digital platform, both about higher education and student life and about the world of work and career prospects and exchange asynchronously with not only the exhibitors physically present at Belval, but also with more than 80 additional "virtual" exhibitors.
The Student Fair online platform (www.studentefoire.lu) will remain accessible until 28 December 2022, 18:00 and the stands of all the exhibitors and their documentation and the webinars will be available freely for consultation.