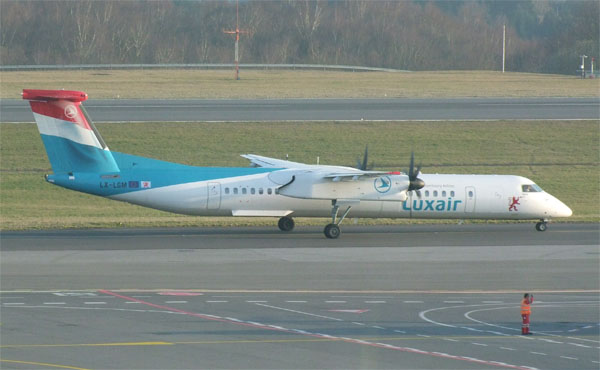 Credit: Luxair
Luxair, the flag carrier airline of Luxembourg, has reported that one of its flights from Luxembourg to Paris suffered a technical problem during takeoff on Sunday 6 March 2022.
A technical problem with the landing gear occurred a few minutes after takeoff of flight LG8013, operated by De Havilland Q400 from Luxair, departing from Luxembourg and destined for Paris. One of the landing gears suffered a puncture and the concerned aircraft flew over Luxembourg for a few minutes, before landing again at the departure airport.
Following the safety procedure provided for this type of event, the aircraft returned to Luxembourg.
The aircraft was able to land normally and for safety reasons, according to procedure, the firefighters were called and were on standby, as well as buses to recover the 50 or so passengers on board the aeroplane.
The pilot kept the passengers informed and, according to Luxair, "their safety was never jeopardised". Once they arrived at their destination, they all safely disembarked the aeroplane.