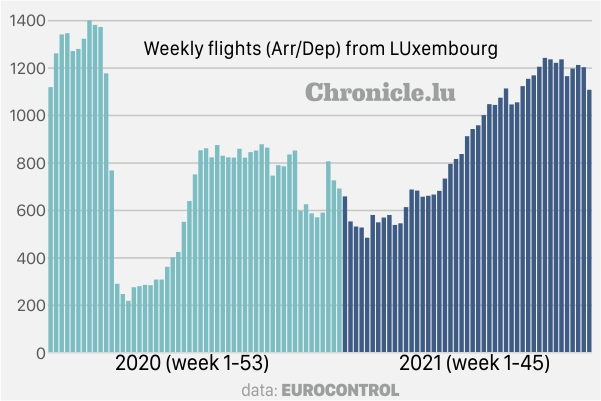 Just before COVID-19-related travel restrictions started in early March 2020, the first ten weeks of 2020 saw about 1,310 flights to and from Luxembourg each week on average (arrivals and departures are counted independently).
Following the travel restrictions, the number of flights came to a screeching halt to fewer than 300 flights per week. Since then, aviation activity is slowly picking up pace and after 67 weeks (since 22 march 2020), the number of weekly flights reached above 1,000 in July 2021.
The average flights per week for the past ten weeks (week 36-45, 2021) are nearly 92% of that of the first ten weeks of 2020.
On a broader level, low-cost and traditional aviation across Europe is still 20% - 30% lower than 2019 levels, as on 10 November 2021, while business aviation increased by 28% and non-scheduled and charter flights are up 36%, mostly since October 2021. Cargo flights are also up 10% across Europe.
In terms of destinations, intra-Europe traffic as on 10 November 2021 is still 20% less, while intercontinental flights were 28% lower than 2019 levels.