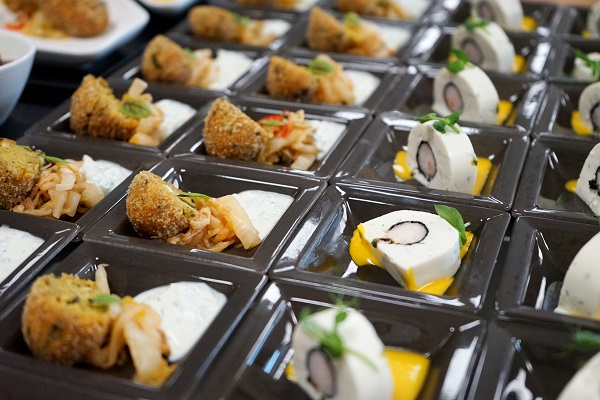 Credit: Luxair
At a press conference on Thursday, Luxair and the École d'Hôtellerie et de Tourisme du Luxembourg (EHTL) in Diekirch unveiled their collaboration on the airline's new Business Class menu.
As part of its efforts to continuously improve and provide quality service to passengers, Luxair decided to review its business class catering concept. In the spirit of innovation, the airline launched a challenge to the young talents of the EHTL, by betting on the freshness of their ideas for the preparation of the new menu for the Business Class. The EHTL teams worked hand in hand with the experienced chefs of Luxair Catering.
Through this initiative, Luxair is pursuing its desire to promote Luxembourg, its know-how and its values. This winter menu, designed in partnership with the EHTL, will be distributed to passengers traveling in Business Class from 28 October 2021 to 23 March 2022. For its part, the airline will give visibility to this partnership both on board and through its social networks.
The high-quality menus will be characterised by local and seasonal products, with dishes focusing on nature's riches. Breakfasts, meals or snacks will be offered, depending on the length and time of the flight.
Starting with the thin parmesan pie, going through the sashimi-style beef and ending with the lemon meringue pie, these twelve prepared menus will be served from next week to Business Class customers.
Gilles Feith, CEO of Luxair, commented: "We are very pleased with this opportunity to surround ourselves with young talents from the EHTL for the development of our Business Class menus. We wish to continue to play our role of Luxembourg ambassadors, this time highlighting the culinary talents of young Luxembourg chefs and local products, in order to introduce them to our passengers".
"I am pleased that the good news about the cooperation with Luxair, which regularly recruits EHTL graduates, continues. This initiative is a perfect example of a successful cooperation between a private company and a public school that have the same ambition, namely the satisfaction of their customers", added Michel Lanners, Director of EHTL. "For the teachers and students involved in the project, it represents a valuable educational operation as they had to work on very concrete challenges such as the constraints of catering at altitude, which represents an additional added value to their learning".
A presentation of this new concept was followed by a tasting of the menu, served by the EHTL teams, during Thursday's press event.