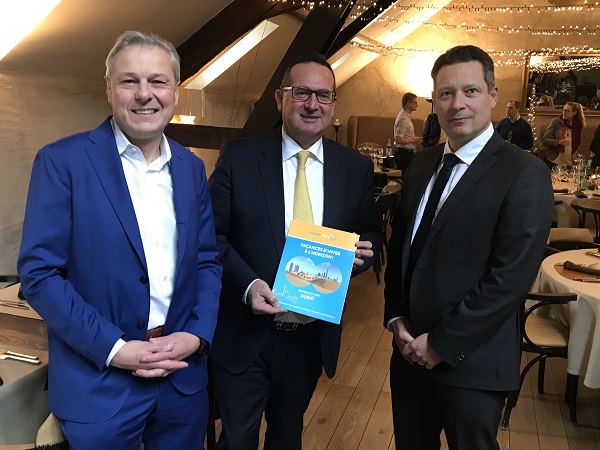 L-R: Laurent Jossart, EVP Airline; Alberto Kunkel, EVP Tour Operating; Jean-Paul Gigleux EVP Airport Services; Credit: Geoff Thompson
On Monday 2 December, Luxair held a press conference to address the latest news and developments of the group's four business activities: Luxair Luxembourg Airlines, LuxairTours, LuxairCARGO and LuxairServices.
Laurent Jossart, EVP Airline at Luxair since July 2019 (previously he worked with Virgin Exprerss and Charleroi Airport, before joining Luxair in 2006 to work in finance), reviewed the activities of the airline throughout 2019 as well as looking forward to planned activities in 2020.
2019
In 2019, the airline expects to fly 1.3 million passengers, a drop of 1% compared to 2018. The top three destinations have been (1) London, (2) Paris, and (3) both Milan (Malpensa) and Munich.
Its fleet comprises 11 De Havilland Q400 (De Havilland purchased the Q400 division from Bombardier during 2019) turbo-prop planes (seat capacity 76; range 1,500km), 4 Boeing 737-700 jets (seat capacity 141; range 4,600km) and 4 Boeing 737-800 jets (seat capacity 186; range 4,050km). The fleet has an average plane age of 6 years.
Innovative products being introduced by Luxair include the "Students Special" rate of €199 return for students aged 18-27 years, for all Luxair destinations (return), available by telephoning Client Services on tel: 2456-1.
Also, the Luxair CityBreak initiative, in partnership with Hotelopia, covers no less than 7,000 hotels aacross 20 European destinations.
And the "Time to Think" feature allows passengers to temporarily reserve a reservation before finally committing.
2020
In 2020, Luxair will fly to Nantes (Mon, Fri), Montpelier (Wed, Sat) and Florence (Mon, Fri), with flights starting the week of 30 March. All destinations will be served by Q400 turbo-prop planes. It will also cease the Saarbrucken - Berlin flight from the end of 2019.
Luxembourg airport's runway will be renovated with works expected to start in Spring 2021, lasting 2-4 years in total, with most works being undertaken at night.