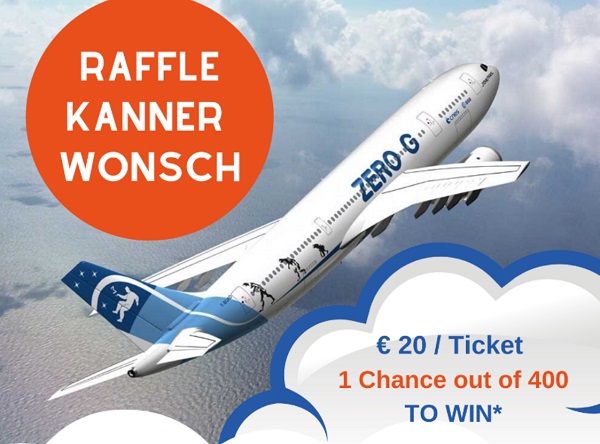 The Kanner Wonsch Luxembourg foundation, previously known as Make-A-Wish Luxembourg, has announced that it is organising a raffle for the chance to win a trip on the first gravity-free flight from the Grand Duchy.
Participants in the raffle will have the chance to join 15-year-old Noah, who suffers from Aplastic anaemia on the first "Zero-G" flight from Luxembourg, departing on 17 April 2020 from Luxembourg Airport.
Raffle tickets cost €20 each and entrants will have a one in 400 chance of winning.
Tickets can be purchased at Demy Schandeler Agencies in Cloche d'Or (Centre Commercial Cloche d'Or, 25 Bd F.W. Raiffeisen), Esch-sur-Alzette (20 Rue de la Libération), Kiespelt (22 Rue de Kehlen), Luxembourg City (16 Rue des Bains), Mersch (Shopping Center Topaze) and Steinfort (2 Rue Ermesinde). Tickets are also on sale at the premises of Kanner Wonsch Luxembourg in Bertrange (15 Rue de Leudelange) and at Bijouterie Leik SA in Mondorf-les-Bains (19 Avenue des Bains).
Each winner will have to pass a medical examination. Children accepted from 14 years old if flying with one parent.