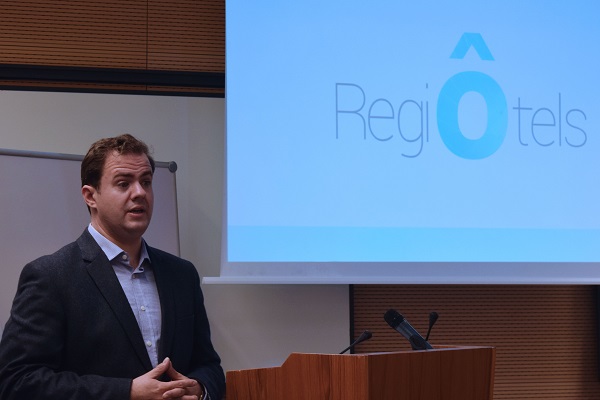 Gregory Tugendhat, Regotels;
http://www.regiotels.comhttp://www.regiotels.comhttp://www.regiotels.comhttp://www.regiotels.comhttp://www.regiotels.comOn Thursday 11 October 2018, Gregory Tugendhat of RegiÔtels, a grouping of independent small and medium hoteliers, announced that since the beginning of 2018, 7 hotels in the Mullerthal region and in the Moselle region have joined forces with Regiôtels, which have been able to reap the benefits of close and active collaboration by increasing their visibility and their turnover.
Since September 2018, 4 new hotels located more in the north of the country have joined the adventure: Hôtel Le Postillon in Esch sur Sure, Domaine du Moulin in 'Asselborn, Auberge Du Relais Postal in Asselborn and WellnessHotel in Wiltz.
Regiotels guide and assist the hoteliers through the sales process, from customer segmentation and pricing, to online presence and direct sales, to technology infrastructure - Digital strategies, Sales and marketing, and Revenue Management. Their team has international experience and has a particularly strong presence in Europe, where they accompany thier partner hotels successfully. In Luxembourg, RegiÔtels is also a key partner of the government to improve the performance of hotels in the country.
RegiÔtels was created in June 2017 to support the tourist and hotel activity of the regions. Its creation was made possible thanks to the support of the Ministry of Economy which helped to finance this innovative project. Recruitment of start-up teams gradually took place between June 2017 and February 2018. Today, RegiÔtels has about ten people working for this project.
Since the start of 2018, RegiÔtels has been directly responsible for €255,000 worth of bookings, of which €100,000 represents private bookings.
Fore details, see www.regiotels.com