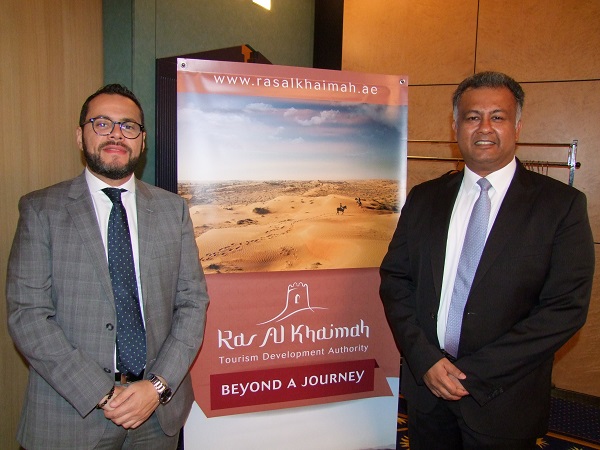 (L-R): Mohammed Khater, Asst Director, Tourism Development; Shaji Thomas, Executive Director, Tourism Development;
Following LuxairTour's recent annoucnement that Ras Al Khaimah becoming a new winter destination starting from 24 October 2018, the Tourism Authority of the Emirate is in Luxembourg to promote the new destination as "the Adventure hub of the middle east".
While it is located just 45 minutes from Dubai (by road), it does also have direct flights to/from Poland and Praque, with the Luxembourg flight now adding to this. The Rak Shuttle Bus also connects Dubai with Ras Al Khaimah (tickets €7).
Its largest source markets are Germany and Russia, followed by the United Kingdom and India and the the Czech Republic, Kazakhstan, the Nordic countries and Poland. It is hoping for around 3,000 visitors from Luxembourg in the first year (of which one third are already sold); from 24 October, weekly flights are on Wednesdays.
At 1,684 km2, the 4th largest Emirate has a population of 345,000 - and welcomes one million tourists annually (2018). Its long-term strategy is to host 2.5 million visitors annually by 2025, in building a sustainable tourism industry which also contributes to the economy.
Geographically, it boasts the highest mountain peak (1,934 m) in the Emirates and has 64km of pristine beaches. It also offers desert (which turns green in winter), springs and mangroves which are habitats for flamingos, etc.
The Waldorf Astoria is the Emirate's flagship hotel, with 6,436 currently available - to reach their tourism objectives they need 20,000 hotel room. The Park Inn, InterContinental and other hotel groups are planning to set up there over the coming few years. Marjan Island is an archipelago over 2.7 km2 which will be the location of most of the new hotels, with Hayat Island also involved in significant development.
Culture Heritage
While the Emirate's differential is adventure and its mountains, it also offers significant cultural offerings, including mosques, the Rak National Museum, the Jazirat Al Hamra - a former fishing village which was abandoned when oil was discovered off Abu Dhabi and the villagers moved there for work; it now has Unesco cultural heritage status.
Traditional Dhow (boat) cruises are on offer, also including dining, with water sports too - both motorised and non-motorised (to protect the mangroves).
The desert sands are orange, with camping, camel rides, horse riding and motor trips on offer. Bedouin camps are popular with tourists, as is the Al Wadi nature reserve, home to indigenous plants and wildlife, including a falcon show.
It has two golf courses Tower Links Golf Club and a championship golf course.
Another area of tourism being developed is Spa and Wellness - currently offered by just one hotel but which will change significantly by 2021.
Temperatures are on average 3-4C below that of Dubai, and cooler in the mountains. For cyclists, trails and paths are being developed. The mountains also offer breath-taking views, with many people taking advantage of "sunset picnics". It has a climbing trail as well as three zip-lines, including the longest in the world at Jebel Jais at 2.83km - it has over 12,000 riders since its opening in January this year, with trips lasting 2.5 minutes (cost €150). Advance bookings are necessary!
An entire adventure park is being built around this and should be open in 2019. The viewing deck park at 1,300 elevation offers 7 decks and uses solar energy.
The best time to travel is between October and May, with temperatures around 24C daily, with August and September being in September. In recent years, August has being the busiest month.
Flight times from Luxembourg to Ras Al Khaimah are 6 hours and 5 minutes. The time difference is 2 hours. Visitors with passports from most countries do not need visas to enter the UAE.
Locally, restaurants offer traditional dishes based on meat, seafood and rice; it also offers international cuisine too. For water, it has both an underground water table as well as desalinisation plants.
For further information, see www.rasalkhaimah.ae and www.luxairtours.lu.