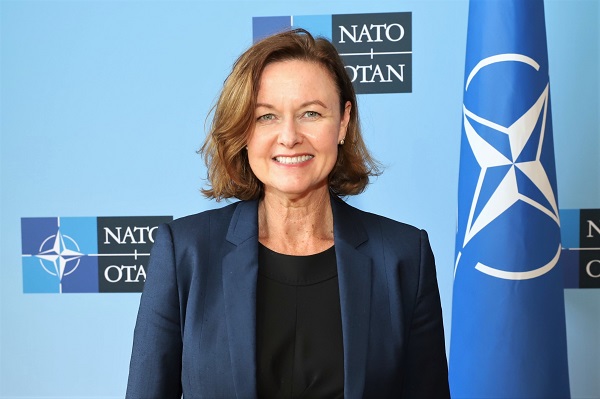 Stacy A. Cummings, General Manager of NSPA; Credit: NSPA
Amid continued global uncertainty, particularly coming out of the COVID-19 pandemic and in relation to Russia's war in Ukraine, Chronicle.lu reached out to Stacy A. Cummings, General Manager of the NATO Support and Procurement Agency (NSPA), to learn about the mission and activities of NATO's main life cycle management, acquisition and services provider, which is headquartered in Capellen, Luxembourg.
The NSPA is the executive body of the NATO Support and Procurement Organisation (NSPO), of which all NATO nations are members.
Chronicle.lu: Please tell us about your role as NSPA General Manager. How have you settled into the role since starting your tenure on 1 September 2021?
Stacy A. Cummings: I joined NSPA after a career spent in the US federal government. In my last position in the US, I modernised the Department of Defense Acquisition System to be more agile while advancing innovative approaches to accelerate advanced technology and software acquisition. I value innovation, teamwork and diversity as an asset for every organisation. My experience therefore spans the mission areas of acquisition, logistics, transportation and procurement and this matches NSPA's role as key enabler of NATO. From a personal perspective, I am very much enjoying Luxembourg in all its aspects.
I am very happy to be the NSPA General Manager and to lead an outstanding team of professionals here in Luxembourg. While my acquisition and support experience prepared me well for this role, I am always learning new things and new ways of working, especially in a multinational environment like NATO. We recently completed a new strategy that will guide the Agency into the future for the benefit of our NATO Allies and Partners. I am excited to see how NSPA transforms over the next several years to deliver and support modern and advanced defence systems.
Chronicle.lu: How big is your team and how do they support you in your role (and the NSPA in its mission)?
Stacy A. Cummings: NSPA is staffed with over 1,400 employees, and we are always seeking new talent! Each member of the NSPA team is critical to delivering on our mission, which is to be NATO's lead organisation for multinational acquisition, support and sustainment. Our strategy is built on the foundation of empowering our high performing team to meet the needs of NATO, NATO Allies and Partners.
In 2022, we conducted a comprehensive review of our strategy. Our new Strategic Framework aims to continue to improve customer satisfaction and ensure the Agency remains effective, efficient and responsive. The Strategic Framework aims to strengthen NSPA's critical position in support of NATO's mission, to expand its reach across Allies, and fulfil its mission.
Chronicle.lu: How many people are employed at the NSPA in Luxembourg? Are there plans to increase this number in the (near) future? In your opinion/experience, why is Luxembourg a suitable location for the NSPA headquarters?
Stacy A. Cummings: Most of NSPA's 1,400+ staff are based in Luxembourg. The Agency is continually in search of talented individuals from a wide range of disciplines including logistics, engineering, procurement and contracting, finance, administration, human resources, operations, IT and many more. Our vacancies are posted on our website and we hire through a rigorous process in which we promote diversity and inclusion. We very much welcome candidates from Luxembourg!
NSPA has been in Luxembourg since 1968 and we have established a strong partnership with this country that has included collaboration across all domains. Luxembourg's central location, strong academic institutions as well as its welcoming culture and diversity make it a great place for NSPA employees to call home. As a host nation, we value Luxembourg's willingness to collaborate with NSPA in emerging technology areas such as cybersecurity, advanced digital tools and space-based capabilities.
Chronicle.lu: Last year, the NSPA celebrated its 10th anniversary. How have the role/mission/activities of the Agency evolved over the years, particularly since receiving its new name and Charter in 2015? How have you seen it change (if at all) since taking over as General Manager in 2021?
Stacy A. Cummings: NSPA has a long and rich history. Established in Paris in 1958 as the NATO Maintenance Supply Services Agency (NMSSA), we moved from Paris to Luxembourg in 1968. In 2010, NATO Heads of State and Government agreed to reform the fourteen existing NATO Agencies, located in seven member states. As part of the reform process, in 2012, the NATO Support Agency (NSPA) was formed through the merger of three other agencies. In this new framework, the Agency assumed overall responsibility for NATO procurement and defence system acquisition, playing a key role as a contributor to effective multinational logistics solutions. In 2015, the Agency finally received a new name and a new mission as the NATO Support and Procurement Agency. Today, NSPA is the lead organisation for multinational acquisition, support and sustainment to NATO Allies and Partner Nations.
I arrived just as the Resolute Support Mission in Afghanistan was closing. This was a catalyst for us to review our mission and vision. Of course, things changed significantly for NSPA again when Russia invaded Ukraine and NATO took on an active deterrence posture. The current security environment has led to an increased focus on Deterrence and Defence, resulting in increased defence budgets with a clear need for multinational cooperation in the acquisition and support of defence systems. We are now responding with innovative approaches to consolidate demand, develop strategic contracts with industry across NATO nations and growing our Programme Management skills and competencies.
While our mission has always been to be a key enabler of NATO, it is clear that the new security environment emerged in 2022, as well as the pandemic since 2020, required a shift in posture and a rapid adaptation to respond to new and emerging requirements from the Nations of the Alliance.
Chronicle.lu: What impact (if any) did COVID-19 have on the NSPA's operations and tasks?
Stacy A. Cummings: NSPA performed a key role in NATO's support to Allies and Partners in their response to the COVID-19 pandemic. The Agency provided strategic airlift capabilities and transport to help Allies move urgent medical supplies and equipment. In addition, NSPA has managed key relief acquisition of medical supplies and provided rapidly accessible infrastructure on short notice to augment national medical capabilities. Finally, it has engaged in innovative projects in support of health workers. This demonstrated the Agency's capability to respond quickly to an emerging crisis.
For example, in March 2020, Luxembourg requested the Agency's support to augment its capabilities with the provision of non-medical support such as tented solutions, to equip the Centre Hospitalier du Luxembourg (CHL) with 200 additional beds. NSPA prepared, supported and coordinated the transport and construction of the facility and assured its maintenance. The Agency was able to answer this urgent request by mobilising the equipment in less than 24 hours, an operation that normally takes five days.
The pandemic has stepped up the Alliance's engagement with crisis management and cooperative security and the increasing overlap of military and civilian requirements. It also provided the catalyst for the Agency to review how we work and to increase workforce flexibility – such as teleworking. We continue to embrace the collaborative technologies that enable us to offer this flexibility to our teams.
Chronicle.lu: Similarly, what impact has the war in Ukraine had on the Agency's operations and tasks?
Stacy A. Cummings: NSPA supports NATO Allies and has been providing logistical assistance and services such as fuel, accommodation, medical equipment and kits, generators and winter clothing. The Agency has rapidly reacted and adapted to the accelerated pace of new and emerging requirements.
This new security environment has further highlighted the need for multinational capability cooperation to deliver greater interoperability. We therefore anticipate nations moving towards collective requirements for supplies and services: this is at the core of NSPA's capabilities and mandate.
Chronicle.lu: In October 2022, the NSPA and Luxembourg's Directorate of Defence announced a Global Commercially Contracted Satellite Communications Support Partnership (GCC SATCOM SP) between Luxembourg and the United States. How has this partnership progressed since then, particularly in relation to the NSPA's role within this?
Stacy A. Cummings: The Agency supports Allies in all NATO domains: air, ground, maritime, cyber and space. We have a strong and growing relationship with Luxembourg in the areas of data, cybersecurity and communications. The GCC SATCOM Partnership is a great example, as the Agency has collaborated with Luxembourg's Defence leadership in activities such as the Luxembourg Government Satellite programme (LuxGovSat). Our business model and experience are well suited for an increased role in acquisition and support in the space domain and we look forward to continued close cooperation with Luxembourg on this partnership and beyond.
Chronicle.lu: Is the NSPA involved in similar partnerships, particularly with Luxembourg government ministries or other bodies/organisations?
Stacy A. Cummings: The Agency delivers its portfolio of capabilities through a framework called Support Partnerships. These are a multinational cooperation mechanism established on the initiative of two or more NATO nations wishing to organise common support and services activities.
This support structure is a distinctive feature of NSPA, offering a ready to execute legal framework for nations to cooperate and benefit from shared requirements. Participating nations provide governance and guidance, whereas NSPA acquires capabilities and manages nations' lifecycle requirements. The consolidation of requirements provides economies of scale, reduces costs and logistics footprint, and offers additional operational benefits. The Support Partnership format also encourages the participating nations to discuss their logistics support challenges so that common and individual requirements can be identified and addressed. We look forward to expanding the number of our Support Partnerships as Luxembourg deepens and broadens its engagement with the Agency and the Alliance.