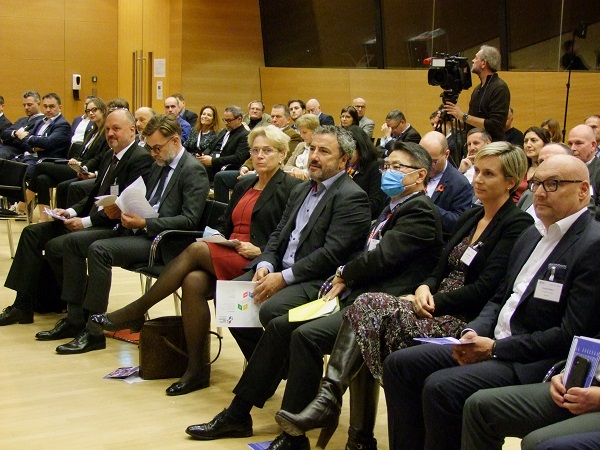 Speakers at the C4L autumn conference 2021;
On Thursday 11 November 2021, the Cluster for Logistics (C4L) held its 19th Luxembourg Logistics Autumn Conference at the Chambre de Commerce in Luxembourg-Kirchberg on the theme of "Logistics 2021 Reloaded".
The event took a look at current and future challenges in the logistics sector. Malik Zeniti, Manager at C4L, welcomed the 75-strong attendees and briefly recapped happenings in the Logistics sector over the past 6-12 months. All speakers remarked on how nice it was to be speaking at a face-to-face event again...
Carlo Thelen, Director of the Chambre de Commerce and President of C4L, addressed relaunch expectations and the building block of building resilient value chains, with the challenges of becoming greener. He asked, jokingly, if Christmas will have to be cancelled this year - referencing some concerns in the media and highlighting the role logistics plays in one's daily lives. On the issue of truck drivers in Luxembourg, he said that 90% of HGV drivers live abroad, with companies taking 9 months to hire new qualified drivers. He referenced Brexit and the role that the Chambre de Commerce has played in relationships between Luxembougish and British businesses.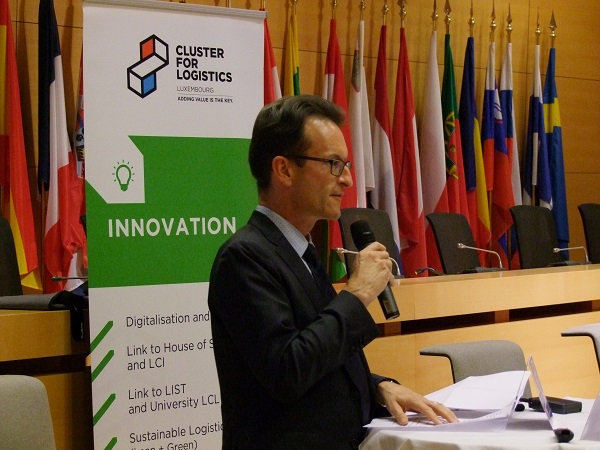 Luxembourg's Minister of the Economy, Franz Fayot, referenced the recent opening of a new depot by Kuehne & Nagle, emphasising that the logistics sector has grown from a low-skills to a high-skills sector, with Luxembourg offering two state-of-the-art logistics centres, as well as an air freight hub which showed its full expertise during the crisis. Currently there are 700 companies active in the logistics sector in Luxembourg. The minister stated that supply chains have been increasingly complex, with the COVID-19 pandemic highlighting and revealing the role of logistics in global supply chains, recalling at the start of the pandemic when Luxembourg was short of masks, etc. Now, however, many manufacturers are experiencing shortages of raw materials, but he hopes that these shortages will be resolved rapidly, which are affecting many sectors in Luxembourg, from the building sector to the automotive sector, etc. He argued for a change from a linear approach to supply chains, to one where information is integrated more. He also stressed the position of academia in the logistics sector, regarding research with universities, etc. On sustainability, such initiatives are not new to the logistics industry, with greener warehouses and transportation. To date, more than 40,000 solar panels have been installed, reducing the carbon footprint. Future initiatives will require a collaborative approach by various actors; he stressed that it is crucial for businesses to be listened to.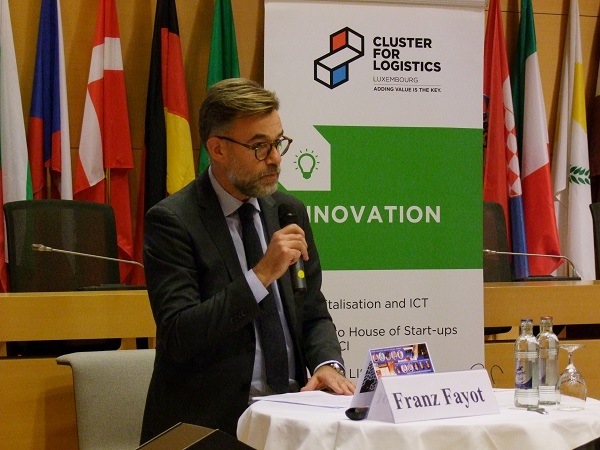 Karine Bellony, Managing Partner of VAT Solutions, talked about the impact of VAT changes on eCommerce and logistics. On VAT changes, she referenced Brexit-related VAT changes from 1 January 2021, with goods exported to the UK are VAT exempt in Luxembourg but are subject to customs declarations in Luxembourg and in the UK: As a result, eCommerce actors selling low-value goods through their own website must register for UK VAT (third-party marketplaces are responsible for doing so for all products they offer). Also, goods imported from outside the EU to within the EU (including Luxembourg) are subject to VAT in the destination country. For low value goods (worth less than €150), the seller can apply for Import One Stop Shop (IOSS) which allows for centralised declaration and payment of VAT (VAT due is collected on the sale, not on the import, of the goods). She also talked about new VAT rules on intra-community distance sale of goods, where sellers can apply to avoid VAT registration using OSS (One Stop Shop). She also mentioned new VAT obligations for Luxembourg warehouse operators. She concluded that further VAT changes are expected, both in relation to Brexit and further EU rules. Responding to a question, she acknowledged that there is a difference between theory and practice, with some countries extending EU implementation deadlines unilaterally.
Richard Forson, CEO at Cargolux, talked about the post-COVID view from the airfreight sector. He said that there will be a big increase in air passenger traffic, starting now, e.g. an explosion of booking now that the US has relaxed restrictions, as well as some countries in Asia too, while others continue to have a very conservative approach. He acknowledged that some airlines have increased prices, leading to a classic "supply and demand" battle. In the west, things are moving quicker than in Asia. Re China, there is a lack of manpower required to process cargo, based on strict quarantine and related restrictions for airport and airline staff. As a direct result, Cargolux has reduced its flights to/from Shanghai. He hopes that China will be opening up soon, partly as they will be hosting the winter Olympics is being held in the new year, as well as the communist party congress at which the country's leader will be elected. The key issues going forward are balancing supply and demand, as well as addressing staff shortages (airlines, customs formalities, etc.). He revealed the imbalance currently existing with container ships sitting off the US, ready to be unloaded, with China waiting for these container ships to return to China so that they can be reloaded. He also warned against the next economic downturn when there will be much more capacity in the economy: the US and EU countries are experiencing higher inflation. He also mentioned a trend in the logistics sector whereby shipping companies, e.g. Maersk, which have started air freight services and have ordered wide-bodied freight aircraft. eCommerce will continue to represent a significant part of the logistics sector as consumers are used to purchasing online and expecting delivery the following day. He believes that the sector will be challenging in possibly 2 years' time as consumer demand rises.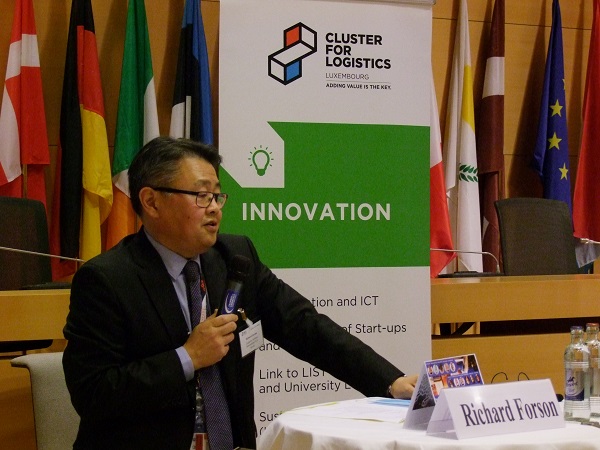 Thierry Schoen, Sales Director at PTSG in the UK, talked about a post-Brexit view of the supply chain in the UK. He referred to the supply chain crisis is linked with a cut in UK manufacturing output. He revealed that the UK has seen 4 consecutive quarterly downturns and also referred to staff shortages, with 95,000 HGV driver positions still to be filled. He said that shortages are related to both Brexit and COVID-19. He mentioned queueing for petrol and also food shortages in supermarkets, with most food imported from the EU. Staff shortages in manufacturing will continue, with seasonal staff working in the oil industry, etc., now choosing to work the winter months in the EU, not in the UK. He emphasised that Brexit has worsened the UK supply chain crisis, meaning that the UK has suffered more than the rest of the world. On energy prices, he conceded that the UK gets most of its energy from France, and mentioned that the UK's manufacturing costs are higher than those in the EU. In the UK, demand has recovered much more quickly than supply, with a bottleneck up to Christmas as delays hold back the recovery. Opinion polls show that people in the UK are not happy, particularly prices in the shops and importing goods from the EU. On sustainable practices and solutions, he mentioned reducing the carbon impact on supply chains, as well as schemes for short-term visas for HGV drivers, vets, etc. He mentioned one solution in promoting Made-in-Britain products. Disruptors include Amazon (Amazon Flex created 50,000 positions), Uber Freight and others.
Luc Provost, CEO at B Medical Systems, talked about the global supply chain challenge for COVID-19 vaccines by presenting his company as a case study. The company started off from a division of the Electrolux group (it was named Dometic before changing to its current name in 2015) and is now 100% focussed on medical products active in 130+ countries. He presented the company's vaccine cold chain portfolio, including refrigerator products using just solar power, and vaccine transport boxes. He talked about incorporating technology in their equipment so they can monitor (temperature, etc.) their products world-wide, irrespective of location. He stated that all players experienced severe challenges during the COVID-19 vaccine roll-out, with logistics challenges and staff shortages just two of the issues faced. Different vaccines needed different storage conditions. The company expanded its production capacity in Hosingen, doubling its space in 6-9 months, as well as establishing a new production facility in India. They evolved their products to cater for two different storage temperatures simultaneously. They also optimised their logistics chain, partnering with Kuehn & Nagel. He concluded by referencing the company's agile and flexible supply chain and the Luxembourg government's prioritising of the company during the COVID-19 pandemic.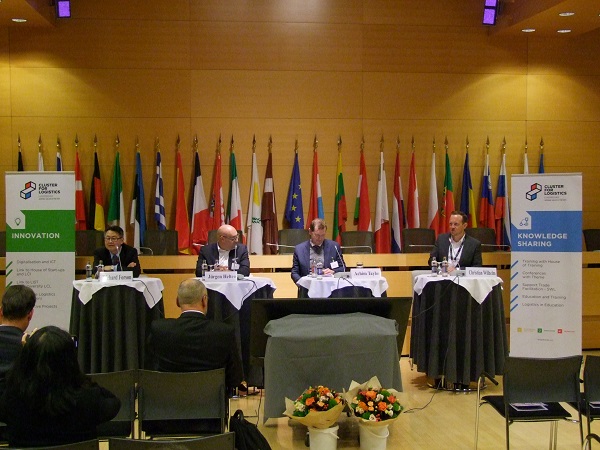 A round-table then followed, on the topic of "Airfreight Innovation & Supply Chain: Quo Vadis?", with Achim Taylor (POST Luxembourg), Jurgen Helten (Luxport Group), Richard Forson (Cargolux) and Christian Wilhelm (SHIPSTA), moderated by Hjoerdis Stahl (Deputy Managing Director at POST Luxembourg).
Malik Zeniti, Manager at C4L, then gave the closing remarks before a networking cocktail.