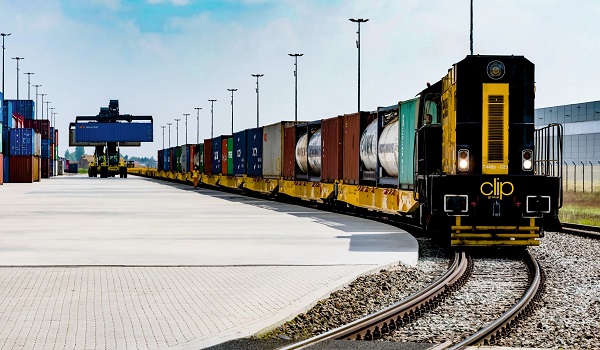 Credit: CFL multimodal
CFL multimodal and Clip Intermodal have announced the launch of a new intermodal connection between Bettembourg-Dudelange in Luxembourg and Poznan-Swarzędz in Poland.
As announced during the Transport Logistic fair in June 2019, Luxembourg-based CFL multimodal and Poland-based Clip Intermodal have successfully completed their partnership project and expanded their respective service offering with the launch of a rail motorway between Bettembourg-Dudelange and Poznan-Swarzędz.
The first train left the Intermodal Terminal of Bettembourg-Dudelange yesterday, Tuesday 28 January 2020. It will run with four round trips per week, transporting containers as well as craneable and non-craneable semi-trailers. The train efficiently connects Poland to Luxembourg and the Benelux area as well as France and Spain, using the existing intermodal connections from Bettembourg-Dudelange to Lyon, Le Boulou and Barcelona.
Fraenz Benoy, Managing Director of CFL multimodal, commented: "The expansion of our intermodal service offering to Central Europe will give us the opportunity to address the craneable and non-craneable trailers market. This new train can transport up to 15,000 semi-trailers per year. This is equivalent to 20,000 tonnes of CO2 savings, which clearly reflects our endeavour to provide both sustainable and reliable services".
Agnieszka Hipś, CEO of Clip Group, added: "CLIP Intermodal as an expert in Poland in intermodal services can promote this solution and provide a unique opportunity to all polish road hauliers to go to intermodal. With further connections from Luxembourg to Spain we have the possibility to create one of the longest rail connection in Europe with the shortest transit time. The train will start with a frequency of four times per week, but we want to increase it to six times per week in the near future. Transit time from CLIP to Bettembourg will be around 23 hours".
The rail traction is provided by CFL cargo, in cooperation with Ecco Rail in Poland. This train covers a distance of more than 1,000 km and has a transport capacity of 38 loading units.