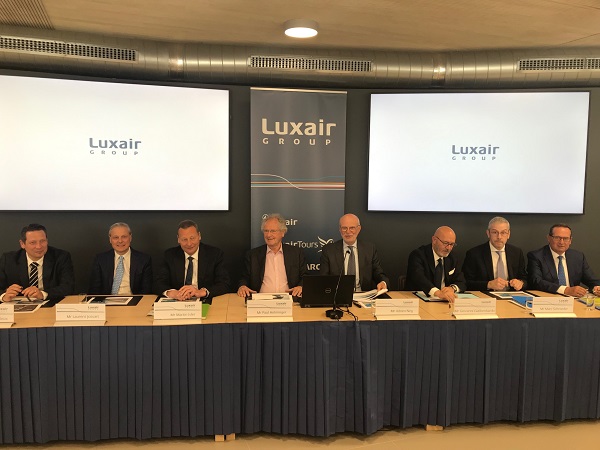 Luxair Group annual press conference 2019 re 2018 results;
On Tuesday 14 June 2019, Luxair Group announced its results for the 2018 financial year, led by Paul Helminger, Chairman of the Board of Directors, and Adrien Ney, President and Chief Executive Officer of LuxairGroup, at the headquarters of LuxairGroup in Munsbach.
Luxair was created in 1961 and currently operates over four business units: Luxair airline; LuxairTours tour operator, Luxair Services and LuxairCargo.
The overall financial message was a nett result of €12.5 million for 2018, up from €9.5 million in 2017, from an overall turnover of €593 million (a growth of 1.28% from 2017). Luxair Airlines lost €10m (up from a €6.3 million loss in 2017), with LuxairTours showing a profit of €9.7 million (€7.2 million in 2017, an increase of 35%), LuxairCargo posting a profit of €3.9 million in 2018 (down from €5.1 million in 2017) and Luxair Services showing a profit of €3.9 million (up slightly from €3.8 million in 2017).
The outlook for Luxair airline is for passenger growth stagnating, with a stable load factor. For LuxairTours, bookings to date are up 2.5% compared to this time in 2018. For Luxair Services, 4.3 million passengers are expected in 2019, an increase of 6.5% over 2018. For LuxairCargo, the future is challenging due to an unpredictable world economy.
Luxair Airline
In 2018, Luxair airlines transported a new record of around 2.2 million passengers, up considerably from around 1.7m in 2014. The 2017-2018 increase in passengers was 11%, representing a 12% increase in seat capacity and a 14% increase in flights. The average load factor is 64%.
LuxairTours
Passenger numbers grew 14% between 2015 and 2018 (9% from 2017 - 2018), with the tour operator having a 76.8% load factor in 2018 (75% average since 2015). The tour operator flew 5,369 flights in 2018, up 6% from 2017.
2018 saw a rise of 30k in passenger numbers (to 698,163), generated mainly by Egypt, Tunisia and Turkey which represented 60% of the passenger growth.
In 2018, flight-only bookings rose 5% and package holiday bookings rose 11%. The top 5 destinations in 2018 were Palma de Mallorca, Malaga, Djerba, Faro and Tenerife.
LuxairCargo
In 2018, LuxairCargo handled 957,000 tonnes of cargo, up significantly from just over 600k tonnes in 2014, and 2% from 2017. The Pharma Center saw a 20% growth in 2018, and 2,524 horses were handled in 2019. LuxairCargo is still ranked the 5th largest major European cargo hub in terms of volumes handled.
Luxair Services
The sector assisted 4.04 million passengers in 2018, compared to 1.92 million in 2012 and 3.6 million in 2017. It served 2,264,808 meals in 2018 and handled a total of 15 commercial airlines in 2018.
The Luxair Group is one of the Top 10 employers in the Grand Duchy with almost 3,000 direct employees and supporting 3,000 indirect jobs also.
Challenges Ahead
Adrien Ney, CEO of Luxair Group, explained that Luxair Airline has experienced increasing competition on many routes over the past few years, giving London, Munich and Oporto as just three examples: in 2011, BA and VLM competed with Luxair serving London (SA to Heathrow; the others to LondonCity); in 2018, Ryanair (Stanstead) and Easyjet (Gatwick) have joined BA (Heathrow) and Luxair (LondonCity) in servicing the UK's capital city. Ryanair have also come in to compete on certain routes (Dublin, Barcelona, Lisbon, Madrid, Milan, Porto), etc.
However, Luxair retains a 52% market share at Luxembourg airport, down from 76% in 2010. Direct competition, both from legacy carriers and also low-cost carriers, remains an issue and threatens Luxair's position as a regional player.
Employee costs rose 4% by automatic salary indexation in 2018.
Another issue of concern for the future is kerosene (aircraft fuel) costs.
Nevertheless, Luxair is on track for growth. Its fleet currently comprises 11 Bombardier Q400 turbo-props (76 seats), 4 Boeing 737-700s (141 seats) and 4 Boeing 737-800s (186 seats). Another 2 Boeing 737-700s will join the fleet in 2019.
For LuxairCargo, volumes so far in 2019 have decreased by 8%, with no signs of stabilisation in sight.