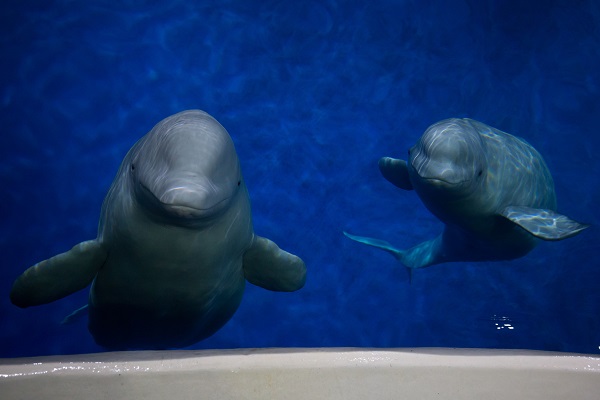 Little While & Little Grey, beluga whales; Credit: SEA LIFE TRUST BELUGA WHALE SANCTUARY
Cargolux has announced the decision to postpone the transport of two beluga whales that was set to take place this week.
Earlier this year, Cargolux was appointed the official transport partner working with the trust and project partner, Whale and Dolphin Conservation (WDC), to help relocate two beluga whales, Little Grey and Little White, from China to Iceland in Spring 2019. The whales were set to fly on board Cargolux from Shanghai to Keflavik before travelling by lorry and ferry to Heimaey island.
The temporary delay is due to the final leg of the complicated journey between the Icelandic mainland and the Island of Heimaey. The weather conditions in Iceland and the forecast of rough seas next week do not allow for the transport of the whales on board the ferry. For this reason, the decision was taken to delay the move of Little Grey and Little White until the weather conditions have improved.
In the meantime, Cargolux and SEALIFE Trust, along with the Icelandic government, are working closely to assess suitable options for the belugas' safe relocation and to secure the flight out of Shanghai to Iceland in the coming weeks. This will require careful planning ahead of the move due to its complex nature and the number of different parties involved.
Cargolux has maintained that the top priority remains the well-being of the two beluga whales.