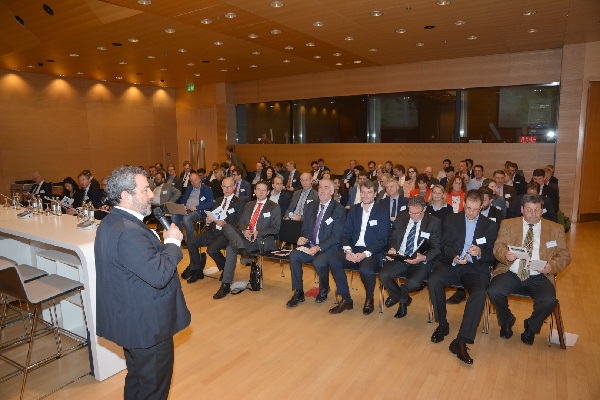 Credit: Cluster for Logistics Luxembourg
Over 100 guests attended the Union of European Chambers of Commerce and Industry's (UECC) annual conference, "European Transport and Transport Policy", held on 8 March 2019 at the Luxembourg Chamber of Commerce.
Organised on behalf of the Chamber of Commerce by the Cluster for Logistics Luxembourg, the conference brought together representatives from the business and political world, such as European politicians Georges Bach and Christophe Hansen and federal deputy Andreas Steier. Tge experts presented their vision for a better Europe, particularly offering an overview of the need for infrastructure and investment.
For his part, UECC President Dr Christoph Juen presented the "Transport Policy Positions" for the 2019 European Elections. Dr Juen emphasised the many complex challenges facing the EU today with the elections representing an important milestone in the development of transport infrastructure, a connecting element for all members.
Luxembourg representatives from the industry and logistics sectors similarly presented their views and made suggestions to politicians on how to make transport and mobility fit for the future. Above all, the entrepreneurs were concerned with the uncertainty about sufficient capacities, such as driver shortages, as well as the impractical implementation of the rules of the Mobility Pact, which they believe, among other things, should clarify rest period regulations throughout Europe. Indeed, they emphasised how Luxembourg strongly reinforces investments in infrastructure. According to roads administration director Roland Fox, the new mobility concept envisages around 40 projects in Luxembourg and the Greater Region over the next few years.
The politicians present agreed that improved infrastructure would require enhanced rights for the European institutions, as well as greater investment in cross-regional or cross-border value-added projects.
The UECC represents 60 regional chambers of commerce and industry from the heartland of Europe. It is committed to an expansion of the economy geared to the needs of transport infrastructure in Europe, free access to all modes of transport, equal treatment of modes of transport in fiscal terms and a liberal market organisation of traffic.