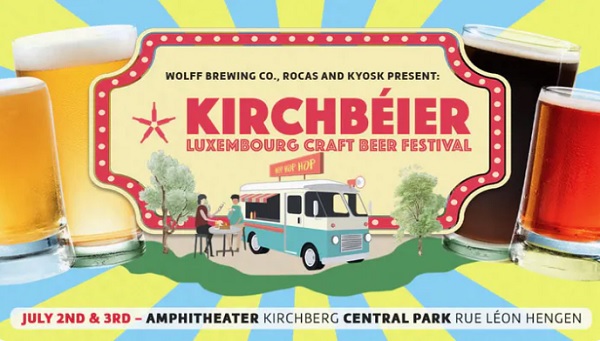 Wolff Brew is organising a two-day beer extravaganza in the park in the heart of Luxembourg-Kirchberg (Rue Leon Hengen) on Saturday 1 and Sunday 2 July 2023 for a celebration of the world's best craft beers.
Featuring the most popular local brewers and top international breweries, this festival is sure to quench one's thirst and tantalise one's taste buds. The beer is the centrepiece to the festival but one will also enjoy an amazing food stall village, artisan quarter and live DJ sets to complement the atmosphere of this idyllic venue. On the Sunday there will be a few surprises in store - a clue is the Circus tent...
For parents, there will be a dedicated child-friendly zone, so the whole family can come out and enjoy the fun. There will also be soft drinks, ice cream, coffee and a bar.
Saturday: 12:30 - 23:00
Sunday: 12:30 - 21:00
Tickets cost €9 for one day, or €15 for two days, available from https://wolff-brew.lu/shop/events/kirchbeier-craft-beer-festival-ticket/