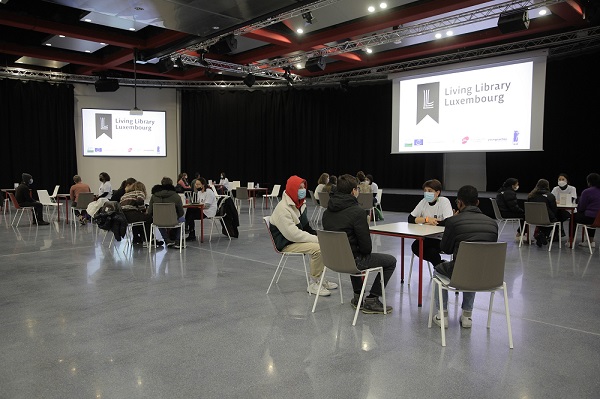 On Wednesday 14 December 2022, the second Living Library event will take place in Luxembourg, in the Forum Geesseknäppchen: the first session will take place between 09:00 - 12:00 and the second session between 16:00 – 19:00.
The Living Library is a tool seeking to challenge prejudice and discrimination: the event is being organised by a consortium of organisations: Formation et Sensibilisation de Luxembourg Asbl, ErwuesseBildung Asbl, Young ACAT, Young Caritas and the Zentrum fir politesch Bildung
In the Living Library, "books" are people who have special personal stories, beliefs or experiences that they are ready to share with visitors. "Reading" in the Living Library is a conversation between the books and the readers - conversations to which one would not normally have access. The conversations are in Luxembourgish, French, German, English, Arabic, Russian and Ukrainian which gives the possibility to involve more people who are interested but might have a language barrier. The human books from the "bookshelf" of this library represent groups in our society that are often subject to prejudice, stigmatisation or discrimination because of their lifestyle, diagnosis, belief, disability, social status, ethnic origin, etc.
Last year, in December 2021, the first Living Library in Luxembourg took place in the Forum Geesseknäppchen. The event gathered together 16 books and more than 100 readers. This year the organisers expect to increase the number of books and readers from last year, with already more than 16 books, those who will present stories such as problems beyond addiction, how and why ability matters, discrimination in education, prejudices and stereotypes in regard to religions and much more.
Free entry.